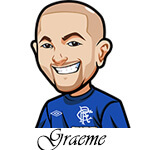 Well unfortunately it happened again.
I wrote last week when covering the Northern Trust Open that the website SportsBettingTips.org, when hiring me to write for the PGA Championship, paid me a bit extra to throw in a couple of exclusive picks.
Well based on the 100/1 Paul Casey cash coming in, they asked me to do that yet again.
This time I went with Jason Day and Harris English and the 80/1 Harris English ended up getting 2nd beyond an immense Dustin Johnson performance while none of the rest of my plays panned out, turning what was a losing week on here into a winning one.
Harris was also one of the people I picked in my daily fantasy tips last week which was sort of a little hint. Him, Day and Oosthuizen were the 3 people closest to making the cut here beyond what I initially posted.
Hopefully some of you got on that. What I am going to do is if I have any exclusive picks for there I am going to put them here as well – however behind a social share block. Even if I don't have any exclusive picks on there I'll probably put some picks behind a social block as well as honestly it's the only method I have to get people to share the tips.
I should note however that regardless of the last two tournaments, I AM posting my best betting tips on here. Every week I have a few golfers who don't make the cut for me. Sometimes I mention them here sometimes I don't. However those end up being the SBT exclusive picks. I'd obviously much rather have my main picks win.
Here's the screenshot from SBT:







Here's the Harris betting slip: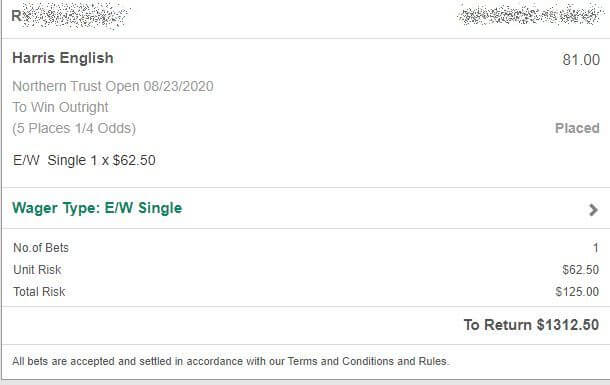 I actually only intended to bet a total of $62.50 on him as well. A happy accident I guess.
Let's get on with this weeks action. Quick note there actually won't be any SBT exclusive picks this week – I won't be writing an article there as I struggled with bets this week.
BMW Championship 2020 Betting Odds:
Dustin Johnson: 15/2
Jon Rahm: 9/1
Justin Thomas: 14/1
Bryson DeChambeau: 14/1
Xander Schauffele: 14/1
Rory McIlroy: 16/1
Daniel Berger: 20/1
Collin Morikawa: 20/1
Jason Day: 28/1
Patrick Cantlay: 30/1
Patrick Reed: 30/1
BMW Championship 2020 Betting Tips:
Not much course data from this one. The 2003 US Open, the Womens PGA Championship in 2017 and the US Amateur in 2015 is all we got.
$125 on Dustin Johnson to win. yeah lots of expert analysis needed for this pick right? I mean the dude is just in spectacular form. I've no idea how well he will do on this course. But I just think back to 2017 when he was in absolutely incredible form winning 3 back to back tournaments, as well as a 3rd place and 2nd place bookended in there. When this guys on form it doesn't matter what is going on.
And uh yeah – sorry ha. That's literally all I've got this week. I just can't figure this course out enough to feel remotely confident about picks. I've read up a lot about it and a lot of analysis and nothing is standing out to me to help me with picks.
ISPS HANDA UK Championship 2020 Betting Tips:
With only the one pick I thought we'd look at other tournaments. Have a decent idea of what works at the Belfry. I haven't focused too much on the European Tour so just a couple small plays. Gives me a chance to test out the social block again too. I've got 3 picks behind it.
$125 on Gavin Green E/W 20/1.. Top of the metrics for me and also playing well with an 11th place and 8th place in his last two tournaments. He closed well at the Wales Open which is always something I like to see.
$62.50 on John Catlin E/W 125/1. Pops up on the metrics and can randomly throw in a great performance such as at the Austrian Open and Celtic Classic. Dude has never had a Top 5 finish on the European Tour but is still solid.
$62.50 on Chris Paisley E/W 60/1 and $62.50 on Dean Burmester at 70/1 E/W. Combo of some decent enough play since golf restarted over the lats couple tournaments and popping up on the metrics.