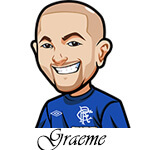 Follow @SBTSportBetting
A great week last week as we correctly backed Brooks Koepa to win the PGA Championship.
What an exceptional performance that was. So rare to see something like that. And I'm glad he backed him because it meant we didn't have a boring Sunday!
For the people who asked why I didn't go with a 1u play instead of a 1/2u play – it was the price. 10/1 was just too low a price to go a full unit unfortunately, as much as I wanted to.
It was also nice to see Jordan Spieth perform. Hopefully see him back on form for the next little bit.
It could have been an even better week with almost all the picks making the cut. Kuchar got an e/w place for us if you were top 8 and how gutting was Xander on the final day? He looked like he had an e/w place wrapped up but then blew it.
Still happy with the win. Here's the betting slip:

A quick note that unfortunately for the forseeable future I'm going to be putting the tips under a social block meaning to access the tips, you need to click a button to share them on social media.
I wish that wasn't the case but I don't charge for the tips and the only thing I want is as many eyeballs on them as possible. Unfortunately people don't voluntarily share the tips – I get that as I don't share much either – so I've got to do that "forced" method.
I know that sometimes shit just doesn't work so on the popup I list my e-mail address. If you can't get them to unlock or whatever just shoot me an e-mail – happy to accomodate you.
With that said let's get to this weeks tips:
Charles Schwab 2019 Betting Tips:
I enjoy this tournament as it's quite a good mix in regard to what can help you win. We've seen guys win due to striking while we've seen others win due to their short game. I mean just look at Roses stats last year compared to say Spieth.
Does make it a bit harder to tip in that regard though! Even course consistency can be quite hit or miss here. Should be a good and interesting tournament. Lot of contenders here I can't rule out so we'll go with smaller unit plays.
Jordan Spieth: 14/1. It's too early to say Spieth is back or anything like that, but for me seeing him perform so well in the latter rounds last week was a big thing. That's where he usually trails off. Not sure if it was just a freak week for him or not but I'm good for 1/8u to win. Just a small bet as it's very tight at the top and I could make a strong case for Rahm too.
I've went back and forth but decided for a small play on Francesco Molinari at 17/1. I feel it is a big gamble and I am not happy with the price. I'm not sure he is back at the top of his game or not although he showed good signs last week. I do think he is suited for this course though and if he can get his scrambling on track, he could be excellent. Just a small bet of 1/8u to win & E/W.
Paul Casey: 25/1. He's been in excellent form other than that cut at the Masters. He's also had a couple of excellent performances here in the last and finished off last week well and could come in strong. A solid value pick here. 1/4u to win & E/W.
Scott Piercy: 50/1. Think he has a great chance here. Hits the majority of the metrics for this course, made the cut last week and 2nd place the week prior. Had a Top 10 finish here two years ago. 1/4u to win & E/W.
Chez Reavie: 55/1. He hasn't had good luck at this course lately but he did have a 5th place back in 2011 and an 11th place in 2013. One of those guys who is getting better each and every tournament but still flying under the radar. Might be a contender. 1/8u to win & E/W. I'd risk more except for the lack of Top 5 places over the last couple years but he could still surprise us.
Brandt Snedeker: 60/1. Never fails to make the cut here and his current form is solid enough. Only the one top 5 finish here so we'll go with 1/8u to win & E/W.
Like I said crazy week. Still a lot of possibilities for this tournament that were on my shortlist.
Made in Denmark 2019 Betting Tips:
I mean this one it's probably Matt Wallaces to lose but unlike Brooks, I just don't have the confidence in him at that price.
1/8u on Soren Kjeldsen to win & E/W at 50/1 odds. Perofmred well here, had a decent outing last time out. Good at Putts in GIR.
Also 1/8u on George Coetzee to win & E/W at 90/1. While he didn't make the cut at the British Masters he didn't play bad for his first time playing in awhile. His form prior to his break was solid enough.
1/8u on Erik Van Rooyen to win. Could always go with 1/4u to win & E/W instead but Kinda like him to pull a big win this week coming off his performance on the weekend. But tough at the top so just a small play.
LPGA Pure Silk Championship:
Haven't did much LPGA lately but hope to get back to it as well as expand more into other tournaments outside of PGA & European. Hey if you guys are social sharing I may as well do a bit of extra work for ya.
Honestly a large part of it is all of the golf tips work wears me out at times ha. After I finished up the PGA this week I needed to chill and relax in my recliner for a bit before coming back for more.
1/8u bet on Lexi Thompson to win at 14/1 and 1/4u bet on In Gee Chun to win & E/W at 33/1.
Follow @SBTSportBetting