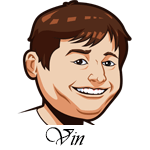 Follow @SBTSportBetting
A 3-0 record last night!
The Seahawks pretty much dominated the Vikings on defense. The Vikes only managed seven points and the pre-season Super Bowl favorites are now looking like a borderline Wild Card team. While Seattle seems to get stronger every week. They are 0-2 against the Rams this year, but they were very competitive in those games and I'm wondering if this team will see the second round. Stay tuned.
We also got a couple of wins in the NBA. The Nuggets continued their great home play as they won handily over the Grizzlies. We also had the Kings over the Bulls and that one came in as well. There is a ton of drama surrounding that Bulls team right now and they seem like a solid bet to be at the top of the draft next season.
Notable Upcoming Bets:
NBA Betting Tips:
Houston Rockets vs. Portland Trail Blazers: The Rockets have been kind of a mess this season. They are lacking the shooters and Chris Paul has not been himself thus far this season. They still have James Harden, but the 60-win team of last year is gone and it's not coming back. This is a team in desperate need of a trade. For some reason, this team keeps getting the respect of last year's team. They are an absolutely terrible rebounding team and the bench is lacking. I don't get it.
They play the Blazers today and while Portland has had their own ups and downs, I think they dominate the boards here and get it down. Portland is 8th in Defense Rebounding percentage while Houston is 29th. Not only are they 29th, they have one of the two worst rates in a number of years. This team needs help and I don't think it's coming tonight. Give me the points.
NHL Betting Tips:
Edmonton Oilers vs. Colorado Avalanche: The Oilers were an underachieving team earlier this year and fired Todd McLellan and replaced him with Ken Hitchcock. Since then, this team has been on fire. They are 7-2-1 with Hitchcock coaching and are in the midst of a three-game winning streak. They are on the road against the Avalanche tonight and I really like them at this price. They are a slight underdog, but Colorado is coming off a huge loss to the Lightning and I just love Conor McDavid and company here.
Carolina Hurricanes vs. Toronto Maple Leafs: I've been on the wrong end of a few Leafs games of late as I went with them since they got William Nylander back, but they've been winless since his return. That won't continue though as this team just has too much talent to continue losing much more. I think they get back on the winning ways tonight.
Carolina should be without McElhinney and Staal for this game which is a huge loss and Toronto has played well on the road this season. I like the Leafs to grab the win here.
Follow @SBTSportBetting