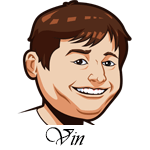 Follow @SBTSportBetting
A great match-up comes our way tonight as the Seattle Seahawks and Minnesota Vikings go at it on Thursday Night Football. Both of these teams are currently in the driver's seat for the NFC Wild Card spots with the Vikings having an extremely thin chance of winning the division. Both of these teams are far from clinching their spots and need a win to keep it going. This should be a good one.
The Vikings at 6-5-1 are having a rough go of late, thanks mostly to a tough schedule. They are 2-3 over their past five with losses to New Orleans, Chicago, and New England. This is a tough match-up, but perhaps a welcome reprieve from that murderer's row.
On the other hand, Seattle has mostly rode an easy schedule to this point. Their last three wins have been against the Packers, Panthers, and 49ers. They are all on the outside looking in of the playoff picture and two of those wins have been by three points. Of course, Seattle is at home for this one and that has historically been one of the toughest places to play in this league.
Notable Upcoming Bets:
Minnesota Vikings vs. Seattle Seahawks Betting Tips:
The Vikings have been a top ten defense, but the offense has been an issue for them. While I like and respect that defense quite a bit, Russell Wilson is absolutely cooking right now. He has been one of the best quarterbacks in the league this year and is very hard to program against. The pass rush seemingly empowers him while when left alone he can make things happen as well. He'll be a major problem for this Vikings defense today. What should also be a problem for the Vikings is the Seahawks crowd. These guys get loud and the false starts will be a real problem. If this game was in Minnesota I would probably take the Vikes, but here? Seahawks all day.
NBA Betting Tips:
Sacramento Kings vs. Chicago Bulls: One of the surprise stories of the young NBA season has been the Sacramento Kings. They have been killing it this season and a big part of that is De'Aaron Fox. He has made quite the leap this season and is a good example of why you shouldn't judge rookie players by their rookie season always. This is the hardest league in the world and it can take some time to get there. The Bulls are seemingly taking their sweet time in getting there. They have a lot of great young talent, but they are one of the worst teams in the league. The Kings swept them last year and I think they'll do so again this year. This line is pretty low considering the relative records of these teams. Don't overthink it, Kings -2.5.
Memphis Grizzlies vs. Denver Nuggets: The Nuggets have the best home court advantage in the NBA as the elevation in their city makes it tough for the road teams. Throw in how good this team has been and how nice the crowds are getting, this is a tough place to go. I like the Nuggets to continue that home court advantage here and grab the big win. Bet Nuggets -2.
Follow @SBTSportBetting