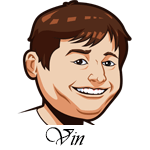 Congratulations to Drew Brees who is now the NFL's all-time touchdown king. He needed three touchdowns to tie Peyton Manning for the record and he ended up throwing four to break it. While he was at it, he threw 29-for-30 to set the NFL's single game completion percentage record. The Saints absolutely rolled over the Colts in this one to improve to 11-3, in a virtual four-way tie at the top of the NFC.
As for Brees, he was happy, but unsatisfied. He told ESPN, "I'll be honest with you," you always think about the one that you missed. If I just set my darn feet and throw it to the running back, it's 30 for 30, so that one may haunt me for a little while."
The search for perfection continues for Brees and I wouldn't be surprised to see him break a few more records before this thing is all said and done.
We move away from football now and onto basketball and hockey. There are some good NBA, NCAAB, and NHL games today so let's get to our tips on those.
Notable Upcoming Bets:
NBA Betting Tips:
Los Angeles Lakers at Indiana Pacers: The Lakers are on a seven game winning streak and head to Indiana tonight. The Pacers have done a very good job this season without Victor Oladipo, but the Lakers are a completely different story with Anthony Davis and LeBron James. Davis is currently listed as questionable for this one, but he's trying to play and as long as he does I think the Lakers can roll tonight. Keep an eye on that and bet as long as he plays.
College Basketball Betting Tips:
Miami vs. Temple: Miami has had a rocky season with bad losses to Florida and UConn, and even their wins have been shaky as they nearly blew a 27-point lead to Illinois. The Miami defense has been very shaky and is a huge red flag for me here tonight. They play Temple tonight who have had one of the better defenses in college basketball this season as they are limiting opponents to only 35.2% from the field. If Miami has struggles scoring, Temple can really lock in and finish this one out. I am liking what I am seeing from Aaron McKie's team and I think they can grab the win here tonight.
NHL Betting Tips:
Arizona Coyotes at San Jose Sharks: The Coyotes are flying high atop the Pacific division and just acquired the dynamic Taylor Hall. The Sharks are coming out of a tough streak as they had lost six straight before winning last time out. I'm not sure they are out of the woods quite yet and tonight's match-up should be very difficult for them. The Coyotes 82 goals allowed are tied with Boston for best in the league and scoring should be hard for San Jose here. Taylor Hall should really help for the offense and I like them a lot on the road here.