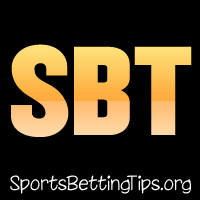 Follow @SBTSportBetting
It was a clean sweep as we went 3-0 last night in the NBA Tips!
Great to have a dominant killer night like that.
Our first pick was the Raptors -2.5 and by the half we knew we were good for that one. Raptors made it 4 in a row with a massive first half against Charlotte. Then DeRozan stepped up big in the 2nd half to keep it going.
It was a great way to start the night.
Our next win was with the Bulls -5 over the Orlando Magic. The Bulls continue to be relentless as they make it 7 in a row and what I liked about this one was that big 3rd quarter effort by them. They were determined to wrap that game up before the 4th quarter and they did that and won us the game with ease.
Our final bet was a risky one with Warriors -10 over the Grizzlies however after a nervous start, the Golden State Warriors took over and covered to make it a perfect 3-0 night.
One of just many we've had this season! Hope you're all enjoying the free betting tips.
Despite our excellent record we've decided to keep the tips free for the remainder of the season. Long term readers will know I used to sell the tips back in the day for two seasons but I don't want to do that just yet – maybe if I can get a nice big season behind me I will. But for 2017/2018 everything will be free.
It's Thursday, December 21st 2017 and a quieter night with 5 games on the board.
Raptors vs 76ers Betting Tips:
Ugh – going to go back to the Raptors well again.
They were running hot yesterday and running hot again on this road back to back game.
One important thing is the 76ers aren't really getting blown out by teams. They're keeping it quite close in games even though they're losing.
I like things like that – it tells the Raptors hey you can't get complacent against these guys.
Raptors had an incredible performance last night. I'm a bit concerned because their last back to back was that Clippers loss. However I liked the way they prepared for last nights game – it looked like they had this game in mind for it in regard to usage of players etc.
Raptors -2.5 is my play.
Knicks vs Celtics Betting TIps:
I actually screwed up my nose at this one – but my betting system likes Knicks +2.5 and ugh I guess I do too.
Porzingis could be back for the Knicks tonight which would be an amazing bonus. The Celtics are slumping at the moment and are finding it hard to raise their game. Their shooting and their offense is bad and their defense are disappointing too.
I mean it's not like they're bad or anything! They're the freaking Celtics. And they haven't lost back to back games all season. So hey maybe they'll bounce back strong here.
To be honest my personal opinion is to avoid this one but the system went 3-0 last night and I'm going to put my faith in it here.
Follow @SBTSportBetting