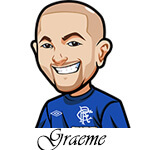 Follow @SBTSportBetting


[Get Exclusive Tips on our Patreon, Ad-Free
]
With a whole thwack of EPL games taking place on Sunday as well as quite a few Serie A games, I'll cover both those leagues in separate posts.
Sunday, July 26th will see the end of the EPL season.
The EPL will then return for the 2020-21 season on September 12th, 2020. Only a one month delay there so not too shabby.
As we go into the final game of the EPL season, there is still some important matches to be played. The battle for 3rd and 4th is between three teams in Man U, Chelsea and Leicester. Wolves and Spurs are also battling for 6th place. Leicester and Man U square off as do Chelsea and Wolves.
Down at the bottom it's super tight between three teams with Aston Villa, Watford and Bournemouth. Watford are away to Arsenal, Villa away to West Ham and Bournemouth away to Everton.
Let's get to it:
EPL Bets for July 26th, 2020:
Arsenal vs Watford: I called Arsenal losing to Villa. Just classic Arsenal eh? Amazing. Always blow it when they get a good result it seems. So amusing. With Watford having it all on the line Arsenal are 1.90 favourites here to win. Arsenal don't have anything to play for here and are missing quite a few players. They also have the FA Cup final coming up so you wonder if they will play a weakened team or not. However at this price and wanting to finish the season on a high? I'm good for 3u on Arsenal at 1.90 odds.
Burnley vs Brighton: Burnley are slight favourites as they look to end their season on a big 8 game unbeaten streak. Brighton haven't won in 4 games and that was against Norwich. Burnley have a lot of motivation to wrap up an excellent season and should be more driven in this one. Brighton are draw specialists so that's a concern but I think Burnley will be more driven here. 2u on Burnley at 2.37 odds.
Chelsea vs Wolves: Ooof. What a game Liverpool vs Chelsea was. I think Chelsea have what it takes here but man not betting against Wolves either. 2u on BTTS at 1.80 odds.
Crystal Palace vs Tottenham: Palace come stumbling into this one just iwshing the season was done with. It's shocking that they are safe from relegation considering how bad they have been. If Spurs don't absolutely hammer them….man I have no faith in humanity. No bet on this one though because it'd be such a Spurs thing to lose here and the odds don't make it worth it.
Everton vs Bournemouth: Bournemouth are going to have to dig deep if they are going to be able to beat Everton. Everton are a bit inconsistent though and a wild card – never know if they can score or not. No bet here but it wouldn't surprise me if Bournemouth steal the win. 2.90 odds isn't enough for me though.
Leicester vs Man Utd: Leicester have been a rare team where home/away actually matters in this era. I thiiiink Man Utd steal this one but that Leicester home form is a concern. As much as I want to make a pick I am staying away.
Man City vs Norwich: The handicap is City -3. I assume they cover it and won like 8-0. Going to stay away but probably will be kicking myself.
Newcastle vs Liverpool: Liverpool very heavy favourites here. Newcastle went off the rails but Pool have been a bit weird. No bet.
Southampton vs Sheff Utd: Southampton come in on a good run while Sheff Utd lost to Everton and Leicester and failed to score in those games. I think Southampton might pull it off and end the season on a winning note. 2u on Southampton at 2.15 odds.
West Ham vs Aston Villa: West Ham and Aston Villa both come in on the back of three solid results. I think this one ends in a draw. 1u on the draw at 3.60 odds.
Follow @SBTSportBetting