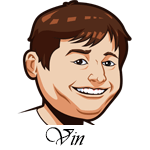 A 1-1 record last night.
Last night was Luka Doncic's final NBA game as a 20-year-old and he did what he's done a lot this season, finished the game with a triple-double. Doncic lead the Mavericks to a 109-103 win in a game where we laid -5.5. That couldn't have worked out any better. Doncic had a big game with 26 points, 14 assists, and 10 rebounds. Kristaps Porzinigis had a big game as well with 28 points and 12 rebounds. The Mavericks grabbed the road win here to give us the win.
We lost by taking the Heat at home against the Timberwolves. This was one of those games that you never would've seen in the NBA twenty years ago. The Heat dominated nearly every phase of this game, but the Wolves shot well from three-point land and made six more threes than the Heat to get the win. That's 18-points you are left behind and that is simply hard to come back from no matter how good you are. D'Angelo Russell lead the way for the Nets with 27 points.
Notable Upcoming Bets:
Sacramento Kings at Oklahoma City Thunder Betting Tips:
The Kings have been playing well of late and we made some money betting on them the other night. That was then though and this is now. The match-up is much tougher tonight and I don't like the way the outlook looks for them in this one.
Sacramento are 14-25 as an underdog on the season and 8-15 as a road underdog. They have done a good job in beating spreads this season on the road with an 18-12 against the spread record, but this is a team that I think was underrated for a long time this season and now they are properly rated. This is the third and final game of a road trip for the Kings which can be trouble.
Oklahoma City has been one of the most consistent teams in the NBA this season. They have a 19-12 record in home games this season which is pretty good. What I am really looking at here though is their 23-5 record as a favorite and a 16-5 record as a home favorite. They played the Kings at the end of January and won by 20 on the road. That is the type of final score that I am looking for here and I'm laying the points here.
Portland Trail Blazers at Indiana Pacers Betting Tips:
These two teams played a wild 139-129 game earlier this season, but a lot has changed since then and I am expecting the score to be much different here.
For one, Damian Lillard is not playing for the Blazers and that is about all you need to know about them. They've lost four out of their past five games and are now firmly out of it.
The Pacers had a real rough stretch, but have now won their of their past four. They've done it with some improved defense which is what I am looking to shine here. They held the Knicks to 98 and then the Hornets to 80 points. The total on this one is set high, probably because of how these two teams played each other last year, and I don't think they are going to come close to it. Indiana is going to control the flow here and keep it at a slow pace, and their defense is going to do the rest.