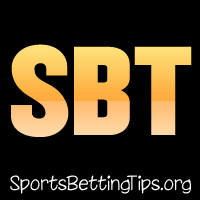 Follow @SBTSportBetting
We used to hate betting for or against the Bucks but the Wizards have replaced that. If you take out all our Wizards/Bucks related picks for this season we've got a 63% win ratio. Those are two teams we just can't figure out and the Warriors looked amazing even with John Wall out. Bradley Beal has been stepping it up and the Wizards have been winning every since Wall went out.
We had a nice easy win with the Jazz over the Saints with the Jazz on absolute fire. What an absolutely amazing performance by Rodney Hood. Any injury concerns about him were gone after that one.
So a 1-1 night. It's February 6th, 2018 and time to see what we've got tonight:
Golden State Warriors vs Oklahoma City Thunder Betting Tips:
Let me say straight up – if the Warriors weren't coming off a loss I'd go with the Thunder here. I think they match up well with the Warriors and with 4 lost in a row they'll be looking to end that here.
But it's not going to happen.
Warriors are the best bounce back team in the NBA and are killing it – not just winning but also by how much they win. They made some mistakes in that game against the Nuggets and Draymond Green will be sick about that turnover but the Warriors will come out motivated and take this one. The loss of Andre Roberson is a big one and that's really going to hurt against the Warriors. I read a rumour they're looking at picking up Avery Bradley which would help them on the offense.
Warriors -10 is the play.
Bucks vs Knicks Betting Tips:
Have to go with Bucks -1.5 here.
Kristaps Porzingis was not a happy camper after that loss to the Hawks and he's mentally going to be busted going into this one as that was a very frustrating one. Jabari Parker being back is a huge boost for the Bucks and he's nice and healthy and ready to play tonight.
This should be a very interesting game but the Bucks should roll out winners here.
Lakers vs Suns Betting Tips:
The Lakers are on a roll at the moment. One concern is their inability to really put a team away but I think they can do it here against the hopeless Suns.
Lonzo Ball will not be playing tonight however both Josh Hart and Kentavious Caldwell-Pope have stepped up and Brandon Ingram is looking good in his new role bringing the ball up.
The Lakers are working well together at the moment and I'll take Lakers -8 tonight despite their piss poor home record.
Follow @SBTSportBetting