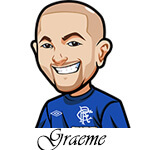 Sorry the tips are so late today. Golf sometimes wears on me with so much data to analyze etc.
Well unfortunately overall a disappointing week with the golf bets last week.
All our bets were to win and top 5. The closest we came was with Lee Westwood. He probably should have nabbed a 5th in the Nedbank but he ended up a stroke away with 6th place after a -1 on the final round.
In the Mayakobe three of my picks made the cut alas they never really contended and in terms of picks, it was a disappointing week.
Hopefully better this week then. We've got the DP World Tour and also the RSM Classic.
I'll also cover the NBA action taking place today. Nothing in the NHL – tough day of games with just the two.
Let's get to it shall we?
Golf Bets Nov 20, 2019
So first of all we'll tackle the easier one – the DP World Tour Championship. Not really too many to pick from there I am only going with two.
I'm on Jon Rahm to win. The sportsbooks feel it is between him and Rory and honestly at the price I wouldn't touch Rory at +300 with Vins money. That's just a brutal price for golf especially knowing the way Rory is. He's the best golfer in the world but we know how he can fade. Spots like this are big for him and I'd much rather being on Rahm who also has thrown in some excellent performances at this course.
I'm also on Lee Westwood to win and top 5 despite his disappointing one last week for us. Lee is at the top of his game and I'm happy to go back to the well.
Now we have RSM Classic. Not a top field for this one and I have four long shots.
All of them are to win and top 5.
First up is Brian Gay at 0/1. Nice price for Gay. Good form, looks good in the metrics for this course and also has some solid results here. Gotta like Gay to be in contention going into Sunday.
Harry Higgs has never played here however I think he is going to perform well here. Just stands out well in all the metrics.
I'm also on Stewart Cink. 125/1 so it's a wee bit of a longshot bet. He should perform well here.
Finally the 100/1 David Hearn who has good current form and course form which is the easiest two basic metrics to go by.
Sometimes it's not worth overthinking it.
NBA Bets Nov 20, 2019
I'm taking Raptors -4.5. Excellent home form of course and they always perform well here. Fred VanVleet is really killing it and I like what he has been doing. The entire team just looks like they are clicking right now and this could be a long night for the Orlando Magic.
Also backing the Utah Jazz revenge tour. Jazz lost to the Wolves due to complacency and impatience. Two things that are easy to resolve. Dante Exum has had a game back to get sorted and that should add to their depth here. Jazz -2.5.