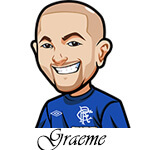 Follow @SBTSportBetting
Hey guys,
Unfortunately I am really behind on work this week and won't have time to do a full write-up for the golf.
However I didn't want to skip a week here as I want to keep posting with regularity.
So I'm going to do just a quick bullet list of my bets this week.
If you want to see reasoning for them, head on over to my golf betting tips site which goes into further detail.
Anyway my picks are:
Farmers: Rory Top 5, Scott To Win & E/W, Molinari To Win & E/W, Leishman To Win & E/W, Huh To Win & E/W, Palmer Top 10.
Dubai: Willett, Gallacher, Lipsky, Scrivener. All to win & E/W.
Hopefully my time is better next week. Check the writeups over at golf betting tips for additional details.
Follow @SBTSportBetting