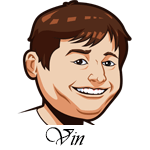 Follow @SBTSportBetting
An 0-1-1 record last night.
I always feels like I am making up excuses when I write up the recaps. Like the Astros could've won last night. The Red Sox put out Craig Kimbrel in the eighth for his first six out save of the year and he had no control, gave up a ton of hits and walks, and nearly blew the game. Nearly blowing the game isn't blowing the game though. That said, I do have one big excuse for this game and that's the fact that the UMPIRES STOLE A HOMERUN FORM THE ASTROS!
That was not fan interference. Fan interference is when a fan reaches over and affects the play. This was, at worst, Steve Bartman. At best, it's Mookie Betts trying to rob a homerun and failing. Unbelievable. Two runs off the board and a complete series shift.
I do feel a little bait-and-switched by the Brewers/Dodgers game. The Wade Miley move was genius, but not exactly good for our purposes. That said, Clayton Kershaw put up a great performance and that was that. Serious question: are these two series even the same sport? The Brewers/Dodgers would kill for 1/4th of the offense of the AL teams and the Astros/Red Sox would kill for those kind of pitching performances.
[text-blocks id="137″ slug="email"]
Houston Astros vs. Boston Red Sox Betting Tips:
I've been wrong about this series thus far. The Astros were my favorite heading into this one and maybe that blinded me a bit. They've been favored a ton here, but the bullpen has been a risk and the Red Sox offense is on fire right now. These games are hard to pick. The last three games are the first time that the Astros allowed seven or more runs in three straight games all season. Their strength has been their pitching and that hasn't been a strength. Also, Jackie Bradley Jr. is hitting homeruns after a .234/.314/.403 season.
I think the Astros are going to win today. I was almost going to switch things up and take the moneyline for the Red Sox, hedge my beliefs and the system with what I'm seeing on the field. I wouldn't blame anyone for doing that, but the Astros are the better team and they have the far better starter today.
David Price has lived up to his playoff reputation thus far. He got killed in game two and he should get killed again here. The Astros are an outstanding offense against left handed starters with a 124 wRC+ during the regular season and I just don't trust him. The bullpen will be without Craig Kimbrel which could be considered a good or a bad thing. I just think the Astros are going to come out swinging today. They were two great defensive plays and a crazy umpire call from winning big yesterday.
Bet Astros -1.5 (+109)
The Red Sox offense has been hot though. Justin Verlander might be the most reliable starter left in the playoffs and I expect him to have a good start today. His team needs it and he's shown up when his team needs it. That said, the Red Sox kill righties and I don't believe he'll last very long in this game. I can see this game being 6-4 or something like that again with major runs from both sides. The first four games in this series went over and I think this one will as well.
Bet Red Sox/Astros Over 8
Follow @SBTSportBetting