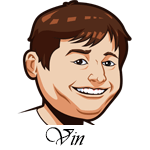 A 1-1 record last night.
On Thursday, a hot fourth quarter from a team that was way down got us a win. Well, last night that same thing happened but against us. The Grizzlies were up 16 points heading into the fourth quarter and had the game well in hand, but the Cavs played hard and made it a close game. Ja Morant had some huge highlights in this one and the Grizzlies won, but they failed to cover the -7 spread.
We did manage to get the win with the Mavericks -7 at home against the Blazers. These two teams played every quarter close except for the second quarter when the Mavs exploded 34-26. That ended up being the exact difference in this game. Luka Doncic had a monster game with 35 points, 8 rebounds, and 7 assists.
The big game on the slate tonight is the Rockets and Lakers, but there are too many questions with Anthony Davis to make an informed opinion on that one. He may play, he might not.
A full slate of Saturday night NBA. Let's pick some good ones.
Notable Upcoming Bets:
Philadelphia 76ers at New York Knicks Betting Tips:
The Sixers are on the second game of a back-to-back which is typically a red flag, but this is the Knicks we're talking about. They've lost seven of their past eight games with the last two being by 23 points or more. They are going to be without Dennis Smith Jr. and RJ Barrett so… what's left exactly? A bunch of power forwards?
This line is a bit lower than you'd expect because Joel Embiid is out and the Sixers are on the back-to-back, but I just don't see any way that the Sixers should lose this game. They are better in every way and the Knicks are a team that has no way of really exploiting their weaknesses. I do often like the way the team plays without Embiid as it gives Ben Simmons more room to do what he does best.
The Sixers have a 5-2 record on back-to-backs this season and I think they will get it done again here.
Orlando Magic at Golden State Warriors Betting Tips:
The Orlando Magic have been playing some great basketball of late with Aaron Gordon especially stepping things up. He had a nice run with 60 points on 23-of-39 shooting over Orlando's last three outings and should have no trouble continuing that run here with Draymond Green out for the Warriors.
The Magic aren't a great road team, but this is the injury riddled Warriors we're talking about. We know about the big three, but Glenn Robinson III is listed as questionable while Kevon Looney and Jacob Evans are out. This team is not known for its depth and this is going to be a sad state of affairs tonight.
Orlando has the seventh ranked Defensive Rating in the NBA this season. Golden State ranks dead last in Offensive Rating. You know how these types of games work out. The Magic aren't a great road team, but the Warriors aren't even a good team, period.