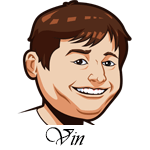 Follow @SBTSportBetting
A tough 0-2 last night.
The Lakers -11 was one of our picks and they won the game by eight points. This game was tied at halftime before the Lakers took control, but honestly they never had this one out of reach. This was kind of a tinkering game for them as LeBron James had a big first half and then spent the entire second half trying to make sure that Anthony Davis going going in his second game back. This was more of a "get him going" game than one they set out to dominate and that ultimate cost us.
We also had the Pelicans -4 for Zion's debut and they ended up losing outright, but it wasn't without Zion Williamson trying. Seriously, check this out.
17 points in three minutes! And then… they pulled him. For injury management. I truly believe that the Pelicans could've won this game if they let him play and they should've absolutely done that. I get that it's not about one night, it's about an entire career, but give me a break. A few more minutes wouldn't have killed him. I think we've finally gone too far in the wrong direction with all this injury prevention.
A three-game slate for the NBA tonight. Let's get to the tips.
Notable Upcoming Bets:
Washington Wizards at Cleveland Cavaliers Betting Tips:
These are two very bad defenses and non-playoff teams and I can see them allowing a ton of points to each other. The Wizards are allowing 120.1 points per game while the Cavs are allowing 113.9 per game.
It's hard to find anything really interesting to say about either of these teams to be honest. The Cavs have the young guards who can do a lot, but can't defend much. They should be a nice match-up for Bradley Beal who is the best player in this game. I can see Beal having a big one here.
I expect these teams to play a fast pace tonight and hit this over tonight.
Bet Wizards/Cavs Over 231 for 1 unit
Dallas Mavericks at Portland Trail Blazers Betting Tips:
The Mavericks got Kristaps Porzingis back and he's rounding himself back into shape. The partnership with Luka Doncic has really proven to be a strong one, but they honestly haven't even scratched the surface of what they can do yet. This Mavericks team is a ton of fun and I think they are really going to show that tonight on national TV.
Portland is really having a season from hell with the injuries. The front line has really been decimated and they have C.J. McCollum listed as questionable tonight. This is a team that simply can't afford to lose a player of that level and I think they struggle here.
Dallas is great and should be looking to get back on the winning side after losing to the Clippers last night out. I think they should win this one easily. The Mavericks beat the Blazers are home a week ago and I expect the same result here.
Bet Mavericks -4.5 for 2 units
Follow @SBTSportBetting