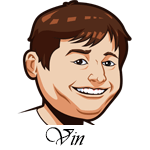 Follow @SBTSportBetting
Another news filled night in the NBA last night. The big story was James Harden doing it again as he scored 61 points and carried the Rockets to a win over the Knicks. It is just crazy what he is doing right now and he looks to have locked up another MVP award. No player in this league is doing as much for their team as he is right now and he is willing his team back into the playoffs. He is inching closer to that record of consecutive games with 30+ points and is just dominating right now.
The crazy thing about him is that if you made all three-pointers into two-pointers, he would still lead the league in scoring. If free-throws didn't count, he would still lead the league in scoring. He is an absolute machine right now and you almost hope that Chris Paul and company don't come back just to see how far he can go.
Last night we also saw Victor Oladipo go down in what could be a season ending injury. This is sad as the Pacers were really starting to put it together and they were looking to make a move to improve the roster for a playoff run. It's hard to see what they'll do now without him and we wish him a speedy recovery.
Notable Upcoming Bets:
College Basketball Betting Tips:
The Iowa Hawkeyes get their chance at revenge against Michigan State tonight. Iowa started strong, but then they played MSU and lost 92-68 and really knocked them down a peg. The Spartans are without Joshua Langford, but they are undefeated in conference play thus far and ranked #6 in the country. It feels to me like Iowa will have revenge on the mind and put on a good showing at home here. I'm not sure they'll win, but they are getting enough points where it's worth a play. Iowa +5 is a nice value here.
Syracuse hosts Miami tonight and you have to like the home team here. Miami has lost four of the past five while Syracuse is coming off a huge win over Duke. The talent level difference between these two teams is just too large and I think the Orange get it done here. Lay the points with Syracuse -8.
NBA Betting Tips:
I am not going against the Warriors right now as they are just too hot, but if I were going to it would probably be a game like this. They are playing at the Wizards, on the complete other side of the country from their home games (and in very different climates), and giving up big points. The Wizards have been a bad team this year, but they are 13-8 against the spread on the year and Bradley Beal has been killing it of late. I love the Warriors as always, but I just can't do it here.
One game that I have circled is the Pelicans and Thunder. The Pelicans have really struggled defensively over the past couple weeks as their depth has been hurt by injuries. This team is built for defense and when that struggles, they struggle. The Pelicans are without Anthony Davis which is a huge blow for them, but they have been playing strong lately. They beat Memphis and had their game against Detroit decided by just four points. I just feel like this line is way too high, even without Davis, and the Pelicans are going to keep up here. Pelicans +12 is my play here.
Follow @SBTSportBetting