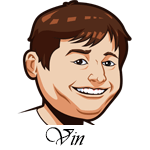 Follow @SBTSportBetting
A 1-2 record last night.
We got the win taking the Nuggets team total last night as they went over 119 with a 123-116 win. This turned out to be a good pick as they did not cover the spread, but did get the win last night. They were backed by a monster of a game by Nikola Jokic who had 36 points, 15 rebounds, and six assists.
The Blazers hurt my feelings. They started the game with a 39-21 first quarter and lost. In fact, that was the only quarter they won as the Bulls took the next three. The lesson? Don't trust a bad defense, even against a bad defense.
I am also kicking myself for going against the Nets last night. It seemed like such a "basic" pick at the time, 'No KD means Nets lose', but things don't always work that way at first. The team can often rally behind the loss in that first game and that's exactly what we saw last night. The Nets had a 35-14 first quarter and unlike the Blazers they kept on the gas and dominated this one. Kyrie Irving had 29 points in 30 minutes, going 5-for-7 on threes.
A big shoutout to Fred for the tip yesterday. We always appreciate it and it helps to keep the lights on around here so we can keep bringing you tips. Let's get back on track today with some wins for Fred.
Best Odds for NBA:
Boston Celtics at Miami Heat Betting Tips:
The Heat have played six games and alternated wins and losses in each of them. They are coming off a win, does that mean a loss tonight?
Boston has put up some nice wins this season and are winners of four of their last five games. Their Net Rating doesn't look that great right now, but a lot of that is swayed by their 123-95 loss to the Nets on the second night of the season. Besides that, they've only lost two games by three or less.
You could say a similar thing about Miami as their ratings are really colored by the 144-97 loss to the Bucks. They have been the much better defensive team (minus that loss) and come into this game in better shape. Kemba Walker is out, Jeff Teague and Marcus Smart are listed as questionable, and Javonte Green is out for Boston.
I am leaning Miami here, but I think the best bet is the over on this one. Boston has scored 116 or more in every win this season while Miami is coming off one of their best offensive games of the season. 218 is low in today's NBA environment.
Utah Jazz at New York Knicks Betting Tips:
The Jazz are playing a back-to-back after last night's sluggish performance. Can they come back tonight?
In the past, I would've said yes since they are playing the Knicks, but this is a new Knicks team. They've won four of their past five games and this is the first game home after a four game road trip. They have been a top-10 defense in the NBA thus far, better than the Jazz have been.
I think the Jazz can come back and win tonight, but -7 is a lot of points. The Knicks have proven they aren't an easy win anymore and they are at home here. If you told me a month ago I'd be taking the Knicks here, I'd say you are crazy. Today? This is my favorite bet I'll make all day.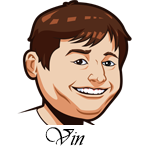 Hey guys.
I spend countless hours per week running this website with Graeme and writing our winning MLB, NBA etc tips. We do this free and don't earn a dime from the site.
However it is a lot of work and to continue we need your support. If you want to show your appreciation for our work or even just a thank you for winning tips, please donate some cash to at least cover our
beer money
! Thanks! Your donations will keep our tips free!
Detroit Pistons at Milwaukee Bucks Betting Tips:
The Bucks have won their last eight games against Detroit and it's hard to see that streak ending here. Detroit stinks and Milwaukee continues to be one of the better regular season teams in the NBA.
Milwaukee opened as a huge -13.5 favorite, but we're going to go with the over on their team total of 119. They have hit that in five of their seven games this season. Detroit is a bottom-five defense.
Golden State Warriors at Los Angeles Clippers Betting Tips:
The Warriors are cooking right now with wins in four of their past five. They are coming off back-to-back wins where they scored 137 points. They aren't quite what they once were, but they are doing it how they've always done it – fast and by filling up the three-pointers.
The Clippers played last night and lost. They were without Paul George and played with Kawhi Leonard so it's pretty much a lock that one or both will be out for this one. Kawhi doesn't really do back-to-backs and George is nursing an ankle. The team has also been without Marcus Morris for awhile now.
The amount of absences/potential absences for the Clippers makes their defense not nearly as scary as it can be. LA is a top-4 Offensive Rating team and the Warriors are on fire right now. I think this total is way too low and should be closer to 240. Take advantage of that.
Bet Warriors/Clippers Over 231
Best Sportsbook To Bet NBA:
Register an Account.
All betting odds and props will now be viewable under the event listing.
You can deposit to BetOnline via over 20 different options such as credit card.
Follow @SBTSportBetting