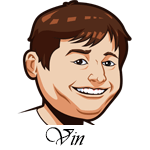 Follow @SBTSportBetting
The World Cup round of 16 lived up to the hype and the round of 8 has been more of the same. Two of the games that I am most excited for take place on Saturday.
The host country Russia has the chance to advance against Croatia. Heading into the tournament, not many people gave Russia a chance but here they are with a great chance to advance. Croatia has played well, but they have had a couple of questionable performances and this should be a heck of a match.
The other big match is England and Sweden. The English fans partied hard after their last win as it was the first time making it this far in some time. The goal scoring of Harry Kane has been huge for them as he has six in the tournament, but he is questionable with an injury in this one. They may be without Jamie Vardy as well which could spell trouble for the English. Somehow, I think they'll play.
Notable Upcoming Bets:
MLB Betting Tips:
A great play today is the Yankees -150 against the Blue Jays. Sonny Gray is having a rough season, but when you take a deeper look at his numbers almost all of his struggles have come in home starts. When he's on the road, he looks like the top of the line starter the Yankees thought they were getting. The Jays offense is only middle of the road and I am licking my lips at the thought of the Yankees offense against Sam Gaviglio.
The Rockies offense has been one of the biggest disappointments of the year. Even playing half of their games at Coors Field hasn't helped and they are near the bottom of the league against right handed starters and very bad on the road. Felix Hernandez has gotten better in every month of the season and is really starting to look good. He always shows up at home and the Mariners are one of the hottest teams in baseball right now. The Mariners -122 is a great value tonight.
World Cup Betting Tips:
It looks like the Sweden team is going to do everything in their power to shutdown Harry Kane in this one. He has been so key to everything that they have done in this tournament and shutting him down is key to beating them. Whether they do or not is a completely different question.
Sweden has been underrated throughout this tournament and I think that they are being underrated once again here. I think that England will have a really tough time scoring in this one. Just making it here was a win for them and I feel like disappointment is once again in the cards for them. If the Swedes can shut down Kane, they can win this game. I say they do. Sweden +390.
The other big game of the day is Russia and Croatia. Russia has been a surprise in this tournament and they have had some really great passing. Croatia beat Denmark last time out, but I felt that game was a bit of a disappointment for them. They had a hard time putting them away when they should've been able to handle it well. The crowd is definitely going to be on Russia's side here and I think they are a great value. Russia +280 is an underdog, but I think they've been a far more impressive team in this tournament.
Follow @SBTSportBetting