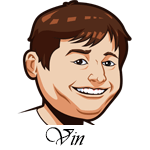 Follow @SBTSportBetting
A 2-1 record last night.
Some losses are good for you. Last night's Diamondbacks/Padres was one of them. There was a loss I had earlier this year that forced me to reevaluate ballpark factors and another that made me look closer at bullpen quality. This loss made me look closer at home/road splits.
Since joining the Diamondbacks, Shelby Miller has been far worse at home than on the road. After updating the system to recognize home/road splits based on the location of the game, the Padres actually came out as a small favorite in this one. So today I wouldn't make this pick, yesterday I would. The Ichi-bot is always evolving and getting smarter.
The Mariners and Twins both won easily to give us our wins last night.
There are a few games that just missed my cutoff, but look pretty good. Here they are ranked from least likely to most likely, based on the system:
Pirates over Phillies
Rangers over Twins
Giants over Cardinals
Twins over Orioles
Those are the close ones, these are the good ones. Let's take a look at today's games and see what the new and improved system (version 4!) has for us.
[text-blocks id="137″ slug="email"]
New York Yankees vs. Toronto Blue Jays Betting Tips:
Speaking of home/road splits, Sonny Gray has actually been much better on the road. He has a 6.61 FIP in home games, but just a 2.70 FIP on the road. The dimensions of that park and the pressure of Yankee Stadium are not easy for anyone and it's easy to see why he may have struggled. The Blue Jays park plays just about even and it's easy to like him here.
Sam Gaviglio is what he is. He has a 3.97 ERA/4.41 FIP. He doesn't have great stuff, but he gets a lot of groundballs and can put up a quality start. The only problem with him today is the offense he is facing. A .777 OPS/111 wRC+. A .205 isolated slugging which is the best in baseball. They are dangerous and I am not sure Sam is equipped to deal with them.
Bet Yankees -146 at: [text-blocks id="87″ slug="bet-mlb"]
Oakland Athletics vs. Cleveland Indians Betting Tips:
Carlos Carrasco is another pitcher that has been far worse at home than on the road. Over the past three seasons he's had a 4.38 ERA/3.97 FIP at home compared to a 2.73 ERA/2.86 FIP on the road. He faces a tough Oakland offense today that has a .750 OPS against righties on the season.
The Athletics send Paul Blackburn to the mound and he's not a scary pitcher. His career FIP is mid 4 area with low strikeouts. He's just not someone that worries me and with the Indians offense hitting for a .762 OPS against righties, I like them to hit him today.
Both of these offenses are looking nice today and with the Indians ballpark playing hitter friendly, I like the over here.
Bet Indians/Athletics Over 8.5 Runs at: [text-blocks id="87″ slug="bet-mlb"]
[text-blocks id="110″ slug="middle-ad"]
Milwaukee Brewers vs. Atlanta Braves Betting Tips:
Freddy Peralta hasn't made just one home start in his MLB career, but it was a beauty. A lot of this guy's starts have been beauties so it's hard not to jump on him each time out. The Braves aren't a huge strikeout team, but he has shown the ability to strike out anyone and I feel like we need to ride with that here.
Mike Foltynewicz is solid, but like all young pitchers he has had struggles on the road. He has a 2.02 ERA/2.99 FIP on the season, but he has a really low BABIP and a high LOB%. Those are numbers that come back on you. The Brewers have a .737 OPS against righties this year and I think they are a nice value today.
Bet Brewers -126 at: [text-blocks id="87″ slug="bet-mlb"]
Seattle Mariners vs. Colorado Rockies Betting Tips:
Heaven help me, I'm a Felix Hernandez believer again. He's gotten better in each month of the season as he's raised strikeouts, dropped walks and improved groundball rate. He had a 3.46 FIP in June and has been a much better pitcher at home this season. The Rockies play half their games at Coors Field and still only have a .718 OPS against righties and just a .686 OPS on the road this year.
You'd think that Domingo German would be better on the road since his home games are at Coors Field, but his numbers are a tad higher in road starts this year. The Mariners are a much better offense than the Rockies right now as they have a .741 OPS/107 wRC+ on the year. This team has been very lucky this year, but as the year goes on they are starting to become a great team. Get on board.
Bet Mariners -126 at: [text-blocks id="87″ slug="bet-mlb"]
Follow @SBTSportBetting