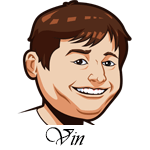 Follow @SBTSportBetting


[Get Exclusive Tips on our Patreon, Ad-Free
]
A 2-2 record last night.
The Indians/Athletics over was exactly what I was looking for when I made the latest tweak to the system. That wasn't the type of game I would normally target, but it easily cleared the total and the system was right on the money.
Sam Gaviglio didn't even last five innings and the Toronto bullpen handled the Yankees offense as the Jays won 6-2. All I can say here is I would bet this again if given the chance. Sony Gray, you are no good.
Colorado got to Felix Hernandez early and that was that. I liked the theory behind this one, but Felix just didn't have his good stuff and the offense didn't show. The Mariners have paid off for us quite a bit of late so they were bound to disappoint eventually. On to the next one.
Milwaukee played a close one with the Braves, but were able to finish things off. Freddy Peralta threw six innings of one run ball and the bullpen nearly gave it away. Dan Jennings came in and killed the rally then Jeremy Jeffress and Corey Knebel finished it off. A scary close finish to this one.
I'm heading out on a camping trip for the night so I'll be most likely not be posting tips tomorrow. I tried to look up the lines, but they aren't available yet If I get home in time I'll be sure to do a quick post. Be sure to monitor any starter changes as the tips I am making are based on the probable pitchers that were out there on Friday night. The same goes with the odds so any major changes you should proceed at your own risk.
[text-blocks id="137″ slug="email"]
New York Yankees vs. Toronto Blue Jays Betting Tips:
I feel like as much as we play the Yankees, we rarely get a chance to play Luis Severino. Which is a shame because he is pretty great and one of the best pitchers in the game right now. Today's match-up is a great spot for him as he faces a Jays offense that has been middle of the road against righties on the year. They have a .735 OPS against righties which is good for a 100 wRC+, league average. They have a 23.5% strikeout rate and that plays right into Severino's game plan.
I like the season J.A. Happ is having, but the Yankees are anything but league average against lefties. An .830 OPS/126 wRC+ topped off with an insane .234 isolated slugging. That is 44 points higher than the next best team. Happ is solid, but his 4.03 ERA/3.64 FIP is probably going up after this one. Lay the runs.
Bet Yankees -1.5 at: [text-blocks id="87″ slug="bet-mlb"]
Milwaukee Brewers vs. Atlanta Braves Betting Tips:
Everybody loves an over and this feels like a great game to bet it. On the one side you have the Braves who hit lefties better than anyone outside of the Yankees with an .801 OPS. They face Brent Suter who has a 4.53 ERA/4.23 FIP and he's been somewhat worse in his home starts for the Brewers. It's a homer friendly park and I think we'll see some here.
Brent Suter went to the DL and was replaced by Aaron Wilkerson, but I still like this game a lot. Wilkerson had a 2.08 ERA/3.95 FIP/5.23 xFIP in Triple-A this year and his walks were over 4 per game. A low BABIP and miniscule HR/FB rate from Triple-A probably aren't carrying over to the MLB, especially against an offense as powerful as the Braves. Everything I felt about Suter is magnified, even if the handedness advantage isn't there.
I've been beating the Anibal Sanchez is not good drum for awhile and today feels like a good day for that to come to fruition. He has a really low BABIP and high LOB%, his 2.89 ERA/4.14 FIP shows he's been lucky. The Brewers .737 OPS/96 wRC+ isn't the best, but they are at home and I like them to do their best to keep up here.
I am not sure if this line is going to be 8.5, but if it is: jump on it. My system sees this line north of 9.5 so I may even go over 9, but I feel less good about that.
Bet Brewers/Braves Over 8.5 Runs at: [text-blocks id="87″ slug="bet-mlb"]
[text-blocks id="110″ slug="middle-ad"]
Tampa Bay Rays vs. New York Mets Betting Tips:
Outside of the games with huge lines today (Yankees, Astros, Nationals, Red Sox, Mariners), this is the system's favorite of the day. The reason? Blake Snell.
I feel like I've been going against Snell more than I've been with him this season, but that's just because the American League is so top heavy. Give him the chance to beat up on a lower tier team and I'm all over him. He has a 2.24 ERA/3.44 FIP and has an awesome 10 K/9 rate. He faces a Mets team that is absolutely horrible against lefties with a .634 OPS which is dead last in baseball.
He faces Steven Matz who I don't really trust right now. His walk rate is sky high and he's running an extremely low BABIP that won't last. His 3.46 ERA/4.71 FIP shows that regression is coming and the Rays are actually a pretty tough team on lefties. They have a .721 OPS/102 wRC+ against them on the season. This is a great place to grab the Rays who have been playing some great ball of late.
Bet Rays -131 at: [text-blocks id="87″ slug="bet-mlb"]
[text-blocks id="418″ slug="best-sportsbooks"]
Follow @SBTSportBetting