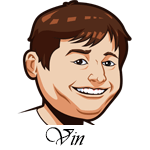 Follow @SBTSportBetting
Beware the day after the great day.
The White Sox +1.5 was a nice play in my opinion. Carlos Rodon came back and looked great, but his defense didn't do him any favors. He could've been out of the second inning with no runs scored, but two errors by the defense allowed two runs to score and that ended up costing us. This game was 2-2 late, but JD Martinez took care of that with a mammoth homerun and Chicago just couldn't do anything with the tough Boston bullpen. Tough loss by half a run.
Houston won the game, but only by one run so we lost that bet as well. This one also featured a Rangers run that came via error so it was that kind of day for us.
The Dodgers offense couldn't fully take advantage of Anibal Sanchez and Alex Wood gave up a ton of hits in a Dodgers loss. This one also featured, you guessed it, an unearned run for the Braves.
It honestly just feels like one of those months where everything is up and down. Great day, bad day, great day, bad day. After a 4-0 finish on Friday, yesterday's tips went 0-3. There was definitely some bad luck in there and I can only think that today will be better because that's how this month has gone thus far.
[text-blocks id="137″ slug="email"]
Chicago Cubs vs. Pittsburgh Pirates Betting Tips:
The Cubs are on fire right now while the Pirates are struggling and this is a great place to grab the Cubs. Kyle Hendricks is on the mound for them and he's been one of the more consistent starters for them. He has a 3.59 ERA/4.46 FIP on the year against a Pirates offense that has a .727 OPS/98 wRC+ against righties this year. That number is dropping as it was once a lot higher, but many of their hitters have started to come back down to earth of late.
The Cubs offense is great and has a .768 OPS against righties this year. They'll face Ivan Nova who is fresh off a DL stint. He's a low strkeout guy with a 4.96 ERA/4.27 FIP on the year. I like the Cubs to hit him early and send him packing. Laying the runs here.
Bet Cubs -1.5 (-110) at: [text-blocks id="87″ slug="bet-mlb"]
[text-blocks id="110″ slug="middle-ad"]
Houston Astros vs. Texas Rangers Betting Tips:
I didn't want to go here again, but Matt Moore is too good to pass up. The Astros have a .789 OPS/120 wRC+ (best in the league) against lefties and Moore has a 7.47 ERA/4.91 FIP/5.62 xFIP on the year. That is the best hitters vs. pitcher match-up of the day and I just can't ignore it.
Dallas Keuchel has had a couple of rough starts of late which is what gave me pause on this pick, but he has a solid 4.13 ERA/4.29 FIP/3.63 xFIP on the year and his high groundball rate should benefit him against the slugging Rangers. The total on this one is sky high and I almost took the under, but I can see the Astros just going off today and would rather just lay the runs here.
Bet Astros -1.5 (-126) at: [text-blocks id="87″ slug="bet-mlb"]
[text-blocks id="418″ slug="best-sportsbooks"]
Follow @SBTSportBetting