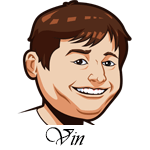 Follow @SBTSportBetting
A weird 3-2 record last night.
The two losses were the systems most favorite games of the night. It's not every night that you see both Chris Sale and Justin Verlander lose. Naturally, it was weird. The Red Sox offense just wasn't there today. All credit to Jose Berrios who took on the top hitting offense against rigthies and shut them down.
The Astros should've put this thing away in the first inning. They had the bases loaded with one out, but a sac fly turned into a double play and they never really had a chance like that again. They ended up losing 2-1 and the top hitting offense against lefties was shut down. These are what scientists might call, anomalies.
Our three wins were all easy. The Indians dominated the White Sox, the Yankees blew out the Mariners and the Braves walloped the Blue Jays. The system correctly called the three games I was skipping in the Nationals (crazy game), Angels and Giants so I'm feeling pretty good about it. That Giants one hurts as they have screwed us lately and I was more scared to go back than anything.
I made a couple tweaks to the system to try and account better for park factors and home field advantage. This is a minor switch in the results, but I think it should help better predict totals. It really likes the over on the Jays/Braves game today and the under on Mets/Rockies, but I am going to wait and see on how it handles the totals for a couple days first. (That Coors one especially worries me.) One game that just missed my cut-off is the Nationals over Orioles. I just don't feel like this is a lay the runs type of game and the moneyline is too high.
[text-blocks id="137″ slug="email"]
Cleveland Indians vs. Chicago White Sox Betting Tips:
Here's hoping we have better luck betting aces today. Corey Kluber is the man right now. He's traded some strikeouts for less walks and it's working in a major way. He has a 2.24 ERA/3.15 FIP/2.70 xFIP on the season and is just killing it right now. The Indians draw a great match-up against Reynaldo Lopez who is due for some big time regression. His 3.35 ERA/4.41 FIP/5.51 xFIP show that bad times may be ahead and what better place for that to happen than right here.
I love Kluber to dominate here and can see the Indians offense scoring 5+ runs. You know what to do.
Bet Indians -1.5 at: [text-blocks id="87″ slug="bet-mlb"]
Seattle Mariners vs. New York Yankees Betting Tips:
Once again, this gives me no pleasure.
I covered a bit of Felix Hernandez's bad season last week as his strikeouts are down, walks are up and groundball rate isn't what it once was. He's been significantly worse on the road this season and now gets to face the Yankees. Baseball isn't nice. Jonathan Loaisigia only had the one start where he looked good, but even adjusting him to a below average starter (say, giving him the same numbers as Felix) still show the Yankees winning this one handily. I don't like it, but I have to lay the runs here again.
Bet Yankees -1.5 (+105) at: [text-blocks id="87″ slug="bet-mlb"]
[text-blocks id="110″ slug="middle-ad"]
Houston Astros vs. Tampa Rays Betting Tips:
Third time is the charm, right?
Nathan Eovaldi is in a bad place right now. His last three starts he's allowed 3+ runs and at least one homerun in each of them. Today he faces one of the best offenses of the league that was kept uncharacteristically quiet yesterday. I don't see this going well for him.
Charlie Morton has had a couple of rough starts of the past couple weeks, but he's still a quality pitcher and pitches better at home. I am laying the runs here again as the Astros should get it done here.
Bet Astros -1.5 at: [text-blocks id="87″ slug="bet-mlb"]
Boston Red Sox vs. Minnesota Twins Betting Tips:
This is the same deal as yesterday, but with lesser pitchers on both sides. The Red Sox are still one of the very best teams in baseball against right handed pitchers. Lance Lynn is having a decent season with a 4.98 ERA/4.27 FIP, but those are very hittable numbers and when you throw in the Red Sox offense he looks like a batting practice pitcher. He's no Berrios.
The Twins still aren't great against lefties and they face David Price is no Sale, but he has been decent as well with a 3.76 ERA/3.45 FIP. I don't trust him enough to the lay the runs, but the moneyline is firmly in play. Throw in the bullpen disparity and the Red Sox are a great play here.
Bet Red Sox -147 at: [text-blocks id="87″ slug="bet-mlb"]
[text-blocks id="110″ slug="middle-ad"]
Follow @SBTSportBetting