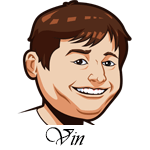 Follow @SBTSportBetting
A 2-1 record last night.
The Mariners got the job done against the Orioles just as I figured they would. The Orioles are terrible, but for some reason are being priced like they are on the Mariners. They are not and we will go this route again tonight.
Tampa was our other win and this one surprised me quite a bit. I liked them to win, obviously, but I was thinking more of a 5-3 affair. The final score? 11-0. Blake Snell pitched a gem, Kevin Keirmaier hit a grand slam, Jake Bauers went 4-for-5 and the Rays are kind of hot right now.
The lone loss was the under on the Rangers/Padres game. This one looked good until a five run sixth by the Rangers. This was a good loss for me though as I realized the Ichi-bot was underrating park effects. I'd noticed some Coors games coming out lower than the total and this game was the same thing. The Rangers park has a 1.215 park factor over the past three seasons, 20% above the average park, and I realized we weren't giving that enough credit. The system has been updated and we'll be going forward with the new version.
[text-blocks id="137″ slug="email"]
Seattle Mariners vs. Baltimore Orioles Betting Tips:
How is this line so low? Yesterday, I get it. Felix Hernandez has not had the greatest season, but James Paxton has been great this year and this is not Fenway Park or the Red Sox. The Orioles have a .665 OPS against lefties and virtually everyone on the team is having one of their worst seasons of their career.
Kevin Gausman is a middle of the road pitcher with a 4.38 ERA/4.36 FIP. I'm not really worried about him outdueling Paxton and the Mariners are a pretty good team against righties with a .734 OPS. This line is out of whack and I will be taking advantage of it again.
Bet Mariners -140 at: [text-blocks id="87″ slug="bet-mlb"]
Toronto Blue Jays vs. Houston Astros Betting Tips:
You know when a good time to debut a rookie pitcher is? Not against the Astros on the road!
That's exactly what the Jays will do today though as they call up Ryan Borucki from Triple-A to start against the toughest offense against lefties in the league. Borucki has had a 3.27 ERA/4.02 FIP in Triple-A this year and projects as a high 4-FIP guy with low strikeouts and decent groundballs. That is not giving me a lot of confidence against the Astros who have a .794 OPS against lefties on the year. He might not make it out of the first inning with George Springer, Jose Altuve, Alex Bregman and Carlos Correa all coming at him from the opposite side. Welcome to the big leagues, kid.
Charlie Morton has been great this year (albeit a bit lucky) with a 2.74 ERA/3.82 FIP. The Jays are pretty good against rigthies, but I like Morton's strikeout upside here and he's been much better at home. He's had some rough starts in June that give me pause, but the start of Borucki might make this whole thing moot. Lay the runs.
Bet Astros -1.5 (-125) at: [text-blocks id="87″ slug="bet-mlb"]
[text-blocks id="110″ slug="middle-ad"]
Kansas City Royals vs. Milwaukee Brewers Betting Tips:
This one kind of surprised me, but it makes perfect sense. Freddy Peralta has made three starts this season and he's been a strikeout god. He has a 2.30 ERA/2.28 FIP and a strikeout rate of over 14 per nine. That is MAJ. He faces a Royals offense that has just a .660 OPS on the year and is playing on the road.
Milwaukee has a .738 OPS against righties on the year and faces Jakob Junis. I like his stuff, but homeruns have been an issue (1.87 HR/9) and he has a high flyball rate (44.3%). That is not what you want to be doing at homer-friendly Miller Park. Travis Shaw and Eric Thames can make him pay.
These are two teams going the opposite ways in the standings and I have no issue laying the runs for Milwaukee here.
Bet Milwaukee -1.5 (-110) at: [text-blocks id="87″ slug="bet-mlb"]
[text-blocks id="418″ slug="best-sportsbooks"]
Follow @SBTSportBetting