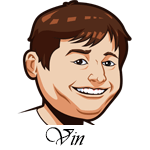 Follow @SBTSportBetting
A 3-0 record last night. 7-1 since Sunday. 25-18 since introducing the Ichi-bot system, +4.32 units.
Not bad, not bad. That smiling cartoon fits today.
The Brewers got the lead early and never looked back. Ryan Braun hit a homerun and him having a strong second half is key for them. Freddy Peralta had another 1-hit, 10 strikeout performance. This kid might be good.
Seattle/Baltimore was a bit closer than I'd have liked, but James Paxton only allowed two runs and the Mariners manage to scrape together three runs and grab the win for us. This one had me really worried when Nelson Cruz was scratched as he's such a big part of what they do, but Kyle Seager picked up the slack and we grabbed the win.
What can I say about Houston? This one was 2-0 in the eighth and I was biting my fingernails a bit as we laid the -1.5. I should've known better as you can't keep a good offense down. They added five more runs in the bottom of the eighth and won 7-0.
There are two totals the system likes today that I won't be betting, but instead just watching. I'm still not fully comfortable with the totals that the Ichi-bot spits out on these games. I know they are right on with what the lines say they should be, but I'm more concerned about what might happen. The two that stick out are:
Under on Cleveland/Cardinals. Shane Bieber's awesome start is definitely skewing things, but even when I adjust it sees Jack Flaherty doing well to shut the Indians offense down as well. Plus, the Cards just hit Kluber last night.
Over on Giants/Rockies. Kyle Freeland is having a heck of a year and Madison Bumgarner is going to start looking like himself soon. These offenses disappointed from what I saw last night as well.
On to the games that the system does like.
[text-blocks id="137″ slug="email"]
Toronto Blue Jays vs. Houston Astros Betting Tips:
Marco Estrada is a bad match-up for this Astros team. He gives up a ton of flyballs and has a 4.48 ERA/4.43 FIP on the year. He hasn't faced the Astros yet this season, but he has faced the Red Sox three times and allowed three earned runs each time. The Astros have a .762 OPS/113 wRC+ on the year which is just behind the Red Sox as the best offense against righties in baseball.
Dallas Keuchel goes for Houston and he's coming off back-to-back quality starts against the Royals. He had some struggles, but bad teams have a way of straightening guys out. He has a 3.90 ERA/3.93 FIP and that number is trending down. The Jays offense is no great shakes against lefties with a .703 OPS/91 wRC+ on the year.
We saw what the Astros did to the Jays bullpen yesterday and I just have to go back to laying the runs here. Biggest margin on the Ichi-bot and for good reason.
Bet Astros -1.5 (-112) at: [text-blocks id="87″ slug="bet-mlb"]
[text-blocks id="110″ slug="middle-ad"]
Seattle Mariners vs. Baltimore Orioles Betting Tips:
I wasn't planning on going back to the well for this one, but then I saw the line and I knew I couldn't skip this one. The Mariners aren't being priced like the team they are against the Orioles and I have to continue to jump on that.
I won't claim to understand why Wade LeBlanc has been so good this year, but he has. He's sporting a 3.26 ERA/3.77 FIP on the year and is facing this Orioles offense that is terrible against lefties. They have just a .663 OPS/80 wRC+ against southpaws.
Seattle's offense gets to face Alex Cobb here who is having a rough year. He has a 6.56 ERA/4.93 FIP and isn't getting a lot of help from his defense that is below average at just about every position. I can understand if you want to wait and see on Nelson Cruz's status for this one, but I think the Mariners will do something here. They just got Jean Segura back and with him, Dee Gordon and Mitch Haniger they can manufacture some runs.
Bet Mariners -111 at: [text-blocks id="87″ slug="bet-mlb"]
Arizona Diamondbacks vs. Miami Marlins Betting Tips:
The Diamondbacks offense continues to be red hot. They are hitting for a .783 OPS over the past thirty days and their full season numbers against lefties are great. They are facing arguably my favorite pitcher to target in all of baseball, Wei-Yin Chen, who has made us some good money this season. This almost feels too easy. Chen has the 6.70 ERA/5.78 FIP with nearly two homers per nine given up. He's not great. The Arizona offense is right now.
Robbie Ray is on the other side and I like him to have a big game here. He's at over 14 strikeouts per nine and faces an offense that is top ten in strikeout rate. Walks have been an issue, but the Marlins are bottom five in walk rate. This is all working out.
I could see laying the runs here, but I'd rather pay a bit more for this moneyline as I think it should be much higher.
Bet Diamondbacks -160 at: [text-blocks id="87″ slug="bet-mlb"]
[text-blocks id="418″ slug="best-sportsbooks"]
Follow @SBTSportBetting