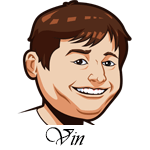 Follow @SBTSportBetting
A 2-1 record last night.
I actually messed up yesterday when I posted the Ichi-bot's record, so let's do it again. 9-2 since Sunday and 30-19 for +4.85 units since debuting the system. Not bad.
It'd be wrong to take all the credit as we did get a fair amount of luck yesterday as well. The Diamondbacks and Marlins played a 2-1 game. That was a razor thin margin and could've easily slipped away from us.
The Mariners had a 5-4 lead heading into the 8th and an Alex Colome (note to self: release him from fantasy team) gave up three runs to make it 7-5. This seemed like a loss, but then the Mariners stormed back in the top of the 9th with two to tie. Then added one in the 11th to win the game. Lucky? Sure, but you don't see the Orioles doing stuff like that. This is why we pick GOOD teams.
We nearly had the luckiest game of all in our lone loss, the Astros -1.5 against the Jays. The Jays had a 6-5 lead heading into the ninth. The leadoff man got on and then the count went full to George Springer. He had a pitch I thought he could walk on, but he fouled it off. He ended up popping out. The next batter, Alex Bregman, hit a walk-off homerun to win the game. Two things here: 1) I've never felt more confident a team would hit a walk-off homerun than I did in this game and 2) Springer couldn't have walked for us to cover?! Pick good teams, good things will happen.
There were two games yesterday where the system liked the total, but I didn't feel great about them. Those went 1-1 as the Giants and Rockies played another very quiet offensive game. Today has two more that I don't quite feel comfortable with that I'll post below.
Over on Oakland/Detroit (Michael Fulmer has been great at home, Tigers have hit lefties well early but I don't see that lasting and kind of like Sean Manaea here.)
Under on White Sox/Twins (Jake Odorizzi AND Lucas Giolito? Umm, no.)
[text-blocks id="137″ slug="email"]
Seattle Mariners vs. Baltimore Orioles Betting Tips:
Well, I guess I can't stop now.
I'm not seeking this series out, but Jimmy Yacabonis has me loving the Mariners again today. The Orioles will try and get the most they can get out of him here, but the projections show that being bad, bad things. I'm gonna ignore his career 5.48 ERA/5.98 FIP as it's a pretty small sample size, but instead I'll give him the benefit of the doubt and look at his Triple-A numbers as a starter which are 3.14 ERA/4.07 FIP. Those don't translate well and I think the Mariners get him out of this one early. That leaves the bullpen and we saw what the Mariners did to them last night and the night before.
Mike Leake is not one of my favorite pitchers, but he has solid results. He's actually been better on the road this year and his FIP has gotten better as the season has wore one. He's only allowed four or more runs four times this year in 16 starts. He's solid and against the Orioles that's all you really need to be.
This game is my top rated run differential on the board and we've made enough hay on this series thus far to go here one more time.
Bet Mariners -142 at: [text-blocks id="87″ slug="bet-mlb"]
Washington Nationals vs. Philadelphia Phillies Betting Tips:
Aaron Nola is having a heck of a season with a 2.58 ERA/2.83 FIP and I really like his match-up against the Nationals here. Washington's offense has been one of the most disappointing in baseball this year with just a .714 OPS/92 wRC+ against righties on the year.
The Nats will send Tanner Roark who doesn't do much for me. He has a 4.27 ERA/4.48 FIP and that's about who he is. The Phillies don't hit righties much better than Washington, but that nearly two run difference in ERA is a pretty big one. Throw in a more consistent bullpen and a slightly better offense and it's easy to like Philly at home tonight.
Bet Phillies -133 at: [text-blocks id="87″ slug="bet-mlb"]
[text-blocks id="110″ slug="middle-ad"]
Los Angeles Angels vs. Boston Red Sox Betting Tips:
The Red Sox are great and the Angels season is slowly slipping away. They are 3-7 over their past ten and outside of Mike Trout, things aren't looking great for them. They send Jaime Barria to the mound tonight who is sporting a 3.40 ERA/4.77 FIP on the year. The 21-year old has the kind of numbers that make the Red Sox look really juicy as an offense today. A 6.39 FIP on the road this season is not a good sign heading to Fenway Park and a 6.66 FIP against right handed hitters is not a good look with a line-up that has Mookie Betts and J.D. Martinez in it. Did I mention the Red Sox are the best offense in the game against right handed pitchers? This line is a gift.
The Angels have just a .698 OPS against lefties and I imagine that number is really ugly when you take Trout out of the equation. Brian Johnson is no great shakes, but he has a 4.50 ERA/3.54 FIP in 36 innings this year and I have to think he'll do enough to keep the lead his offense gives him.
Bet Red Sox -133 at:[text-blocks id="87″ slug="bet-mlb"]
[text-blocks id="418″ slug="best-sportsbooks"]
Follow @SBTSportBetting