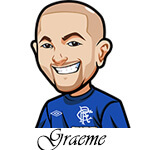 The 2018 Open Championship takes place from July 19-22 from the Carnoustie Golf Links in Angus, Scotland. This will be the eighth time The Open has been played at Caroustie, the last being in 2007 where Padraig Harrington grabbed the win.
Subscribe free via e-mail to get my Open Championship Golf Tips – insert your e-mail address above!
The Open is the oldest tournament in golf and this year will be the 147th iteration of the tournament. There are quite a few past champions in the field this year highlighted by Rory McIlroy, Jordan Spieth, Tiger Woods, Padraig Harrington, Henrik Stenson, Phil Mickelson and Ernie Els. Let's hope Phil remembers the rules of golf here.
In 2017, we had Matt Kuchar as our favorite to win The Open Championship. He ended up finishing in second place for a nice profit, but not quite what we had in mind.
Jordan Spieth was one of our picks in 2016, but it turned out to be a year early on that. Of all of our picks for the 2016 Open, two of our golfers tied for 5th place in Rory McIlroy and Sergio Garcia.
2015 was a really exciting finish with Zach Johnson, Louis Oosthuizen and Marc Leishman going to a playoff with Johnson eventually winning it. That was a particularly crazy year as Johnson had 110/1 odds. Unfortunately, we missed that one.
The top odds for the 2018 Open Championship are:
Dustin Johnson 10/1
Rory McIlroy 12/1
Jordan Spieth 14/1
Justin Rose 16/1
Tommy Fleetwood 18/1
Rickie Fowler 18/1
Brooks Koepka 20/1
Justin Thomas 20/1
Jason Day 25/1
Henrik Stenson 25/1
Despite everything we've seen this season including his early exit at the US Open, Tiger Woods is coming in at 25/1 as well. That might be the definition of "public money" as so many people just want to see him win, they don't stop to consider if he really has a chance to.
This far out there isn't anyone that is really sticking out in the field. Tommy Fleetwood is sure to get a lot of buzz going into this thing as his finish at the US Open was so spectacular and it feels like he's just been lingering around the top of the field forever now. Plus, you have to keep an eye on Sergio Garcia who finished second here back in 2007 and has 5 top five, 10 top ten and 12 top 25 in 21 Open Championship that he's entered.
I'm surprised the odds on Brooks Koepka aren't a bit higher as well coming off that US Open win. He's definitely a guy that always shows up for Majors as he has seven top ten finishes since 2014 and has only finished outside the top 20 in a major twice since 2015.
Weather is always a major factor here and the Carnoustie course has earned the nickname of "Car-nasty" thanks to just how difficult it is. This is considered one of the most difficult courses in the world so some US Open-esque scores.
The wind is particularly brutal here and led to the famous story of the aforementioned Sergio Garcia crying in his mother's arms at age 19 after shooting a combined 172 in the first two rounds. The 1999 Open champion Paul Lawrie finished +6 while 2007 champion finished -7 so there is a wide variety of outcomes on this course. You need a complete game to win on this course and even then you probably need some help from the weather as well.
We'll be back with tips for the 2018 Open Championship soon. Don't miss my tips – insert your e-mail address below!