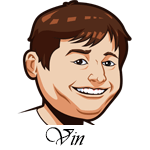 Follow @SBTSportBetting
Sometimes pitchers implode.
That was the case in the Giants and Diamondbacks game yesterday as Zack Godley simply imploded. I turned this game on in the fourth inning with the Diamondbacks up 2-0 and feeling good about scratching out a win here. Then this happened: homerun, homerun, load the bases. That did not end well and I turned that junk off.
A similar thing happened with the Braves and Padres. A seven run fifth inning decided this one for the Padres. I expected the good version of Teheran to show up, he didn't. The Padres are hot right now, I don't get it.
The only pick that I am pissed about is the Yankees in the second game of a doubleheader. There is just so many unknowns in doubleheaders, especially the second game. What hitters and relievers are available, how guys are feeling playing twice in one day and everything else. The Yankees lost, but I probably should've never bet this one in the first place. Doubleheaders are a trap.
An 0-3 record on the day. You can't win them all. I'd like to try though.
[text-blocks id="137″ slug="email"]
Washington Nationals vs. Tampa Bay Rays Betting Tips:
You need a win? Call Max Scherzer. This guy is simply amazing right now. A 1.92 ERA/1.95 FIP with nearly 14 strikeouts per game. Opposing hitters have just a .546 OPS against him this year and that shouldn't change tonight. Tampa has a .721 OPS that is propped up by an above average OBP. Nobody has an above average OBP against Scherzer.
Nathan Eovaldi looked good in his first start, but let's be serious: he's not beating Scherzer. He has a career 4.18 ERA/3.84 FIP and that's about exactly who he is. He might look okay for a couple innings, but the Nationals will get to him. Scherzer will do the rest. Lay the runs.
Bet Nationals -1.5 (-115) at: [text-blocks id="87″ slug="bet-mlb"]
Cincinnati Reds vs. Colorado Rockies Betting Tips:
One of my favorite parks for overs is the Great American Ballpark. The ball just seems to fly out of this place. Not sure if it's the Reds pitching or the ballpark itself, but this place has produced a ton of overs of the past couple years and I think today is a great day for another one. Winds will be blowing out to left-center around 10mph for tonight's game which can only help.
Anthony Descalfani makes his return from the 60-day DL and will make his first start since 2016 for the Reds today. You can't put too much into his rehab numbers, but they weren't pretty as he allowed quite a few homeruns. Projections see him as a 4-ish FIP type, but I can see him having a rude reintroduction to the majors today. The Rockies have disappointed against righties this year, but they have heated up of late.
The Reds are surprisingly great against lefties with a .743 OPS and Kyle Freeland can give up some runs to right handed heavy lineups. Taking the over here.
Bet Reds/Rockies over 8.5 runs at: [text-blocks id="87″ slug="bet-mlb"]
New York Mets vs. Baltimore Orioles Betting Tips:
I'm also liking the over in this one. The Orioles have struggled this year on both sides of the plate, but Jason Vargas has struggled even more with an 8.53 ERA/5.80 FIP. If the Orioles are going to hit, today is the day.
They'll need to as the Mets are one of the top hitting offense against righties and today face Alex Cobb who has a 6.80 ERA/5.40 FIP on the year. I can see the runs coming fast and furious here today.
Bet Mets/Orioles Over 8.5 runs at: [text-blocks id="87″ slug="bet-mlb"]
San Francisco Giants vs. Arizona Diamondbacks Betting Tips:
This might be a bit of an emotional pick more than anything, but I really like the Giants today. Madison Bumgarner makes his long awaited return from the disabled list and the Giants are just always better when he's around. The offense showed what they are capable of last night and I like them against Patrick Corbin.
Corbin has had quite the velocity dip of late and that is worrisome. He is far more hittable and got rocked by the Reds last time out. The Giants offense has a .744 OPS against lefties and the Giants are one of the better hitting teams at home. I just like them to get it done here as the emotions should be running high and they have their chance to get over .500 and climb in the standings.
Bet Giants -140 at: [text-blocks id="87″ slug="bet-mlb"]
[text-blocks id="110″ slug="middle-ad"]
Follow @SBTSportBetting