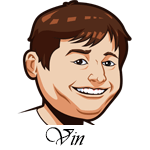 Follow @SBTSportBetting
A 2-2 record yesterday.
Max Scherzer continues to be the man. I wish I could bet on him every day and he looks like he is in line for another Cy Young award barring any injury. The Nationals won easy over the Rays and that was a win for us.
We also grabbed the win with the Rockies and Reds over. The Rockies got us there on their own as Anthony Descalfani struggled in his first start back, but the Reds chipped in plenty and this went way over. Another nice win.
Then we had the Orioles/Mets over and there is a reason that I don't usually mess with the worst team in baseball: they let you down. Alex Cobb and Jason Vargas are both having horrible seasons and both guys had a quality start in this one. That should tell you all you need to know.
Madison Bumgarner looked solid in his first start back, but the Giants bats weren't there as they lost 3-2. Patrick Corbin continues to work some magic as his velocity is down from the beginning of the season, but he continues to perform at a high level. Good for him.
[text-blocks id="137″ slug="email"]
Milwaukee Brewers vs. Cleveland Indians Betting Tips:
I think I've been fooled by Chase Anderson and Carlos Carrasco enough lately. Decent pitchers? Of course, but they are not the kind of guys I trust to go under on. Especially in a match-up like this. Carrasco has an FIP of 4.94 at home this year while Anderson is sitting at a 4.45 ERA/6.00 FIP. These are solid pitchers, these are not aces.
The Brewers and Indians both hit the ball really well against righties, ranking in the top 8 in OPS in the league. They've also both done well in day games this year with a slight uptick in their runs scored. This feels like a great place to grab the over.
Bet Indians/Brewers Over 8.5 Runs at: [text-blocks id="87″ slug="bet-mlb"]
San Diego Padres vs. Atlanta Braves Betting Tips:
This is a great match-up for the Braves and I can only assume the line is so low because the Braves might be tired from beating the Padres so bad last night (14-1). Mike Foltynewicz has been the star of the Braves rotation this year with a 2.22 ERA/3.08 FIP and some big time strikeout numbers. He faces one of the worst offenses in the league against righties as the Padres have just a .659 OPS.
The Padres will send Matt Strahm to the mound and this guy just seems hittable to me. He's looked decent in his 12 innings pitched this year, but if you look deeper he has struggled mightily with walks and is only being propped up by a .189 batting average on balls in play. Did I mention the Braves have a .795 OPS against leftie? ZiPS projections see Strahm as a 5-ish FIP guy and I see him taking the L today.
Bet Braves -129 at: [text-blocks id="87″ slug="bet-mlb"]
Cincinnati Reds vs. Colorado Rockies Betting Tips:
I was kind of kicking myself for not taking the Rockies yesterday so let's do it today. Jon Gray is probably my favorite of their starters and he's had some bad luck this year with a 5.68 ERA/3.14 FIP/3.07 xFIP on the year. He's also been a far better pitcher on the road (shocking) this year with just a 2.86 FIP. The Reds have been a far worse hitting team against righties than lefties and it's hard not to like him today.
Sal Romano goes for the Reds and he might not be as bad as his 6.00 ERA/5.60 FIP/5.05 xFIP, but he's nowhere near as good as Gray and I like the Rox to pick up where they left off last night.
Bet Rockies -135 at: [text-blocks id="87″ slug="bet-mlb"]
Oakland Athletics vs. Texas Rangers Betting Tips:
I just don't get this one.
Daniel Mengden is good. 2.91 ERA/3.19 FIP
The Rangers are bad against righties. .686 OPS
Bartolo Colon is bad. 4.21 ERA/5.18 FIP
The Athletics offense is good against righties. .733 OPS against righties.
I've been burned on Colon before, but I am going there again as I just don't see how the Athletics don't get the job done here. It's going to be hot and humid which is a bump to the bats which is a bump the Oakland if you ask me.
Bet Oakland -112 at: [text-blocks id="87″ slug="bet-mlb"]
[text-blocks id="110″ slug="middle-ad"]
Follow @SBTSportBetting