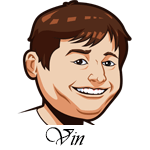 Follow @SBTSportBetting
The Cavs decided to make it a series last night, winning game three in dominating fashion and setting the series at 2-1. This is the fifth straight series in which the Warriors have lost a game three. I'm not sure what that means, maybe the teams they are playing get tired of being beaten so badly or maybe they get complacent on the road, but that is a real thing that has happened to this team five times in a row and each time they have come back to win the series. Last night's game was much more physical than the regular season and that could be messing with theWarriors beautiful game a bit as well. The Cavs are still a +375 underdog in this series so I don't think we should overreact to this one game too much, but game four should be interesting.
Tonight we have what could be the last NHL game of the season as the Penguins look to close out the Sharks at home. The Pens have just done an amazing job of shutting down the Sharks with Pavelski and Thornton only combining for two points in this series. Matt Murray has been insane in goal and it feels like the Penguins will be hoisting the Cup tonight. The Sharks will put up a fight as they have done all playoffs, but it's not looking good.
We also have a full slate of baseball tonight with some really good betting total opportunities. Seriously, this pitching slate is dreadful and tonight should see some high scoring games.
NHL Betting Tips:
It just feels like the Penguins are going to get it done tonight and the bookmakers agree as the line in this one is set at -180. Despite them being a favorite, I think this will be a tight one. The Sharks will fight just as hard as they have all season and this should be a close, 2-1 type of game. We're going with the under 5 goals as both defenses should be at the top of their game tonight.
Notable Upcoming Bets:
MLB Betting Tips:
The Yankees offense is hot right now. They went for 12 last night and have scored five or more in six of their past seven games. They'll get Jhoulys Chacin tonight who holds a 4.85 road ERA thus far this season. The Yankees will put Ivan Nova against the Angels who has really struggled as of late, he has a 6.27 ERA over his past three starts. It seems like these two teams will continue to pile on the runs and tonight's game will go over 9 runs.
Tonight's starters in the White Sox vs Nationals game have combined ERAs right about eight runs. The Sox bullpen is taxed from two straight days from the Nats scoring 10 or more runs. Washington's offense is on fire right now with three straight 10 run games and I am not going against them. I like the Nationals -122 and for this one to go over 9 runs.
Follow @SBTSportBetting