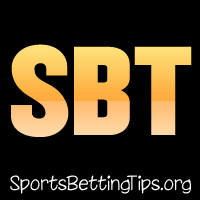 Follow @SBTSportBetting
2-1 record last night.
It was a night of scratches that worked out in our favor. The shorthanded Celtics ended up scratching Al Horford from last night's contest and that led to the Pacers winning outright. That's always nice to see when you are getting +4.5 points. Victor Oladipo led the way with 27 points and the Pacers passed the Cavs for the third seed last night.
We also had the Rockets who played without James Harden and won by 17. Chris Paul had a 24/12 game to lead the Rockets to an easy win.
Our lone loss was the Warriors against the Wolves. The Warriors managed just 41 points in the second half which is not how you win when you are the Warriors. That loss and the Rockets now have a 1.5 game lead over Golden State for the top seed in the West.
Milwaukee Bucks vs. Memphis Grizzlies Betting Tips:
The Bucks have been struggling as of late and have dropped down to the 8th seed in the Eastern Conference. They have lost most of the tiebreakers against the other East teams and need to go on a run if they hope to move up in the standings. They draw a nice match-up tonight against the Grizzlies that should allow them to at least start doing that.
This offense is still trying to figure out how to work together. Less iso Eric Bledsoe, more Giannis Antetokounmpo playmaking, more threes from Jabari Parker and Khris Middleton. Those four will be a nightmare for whoever they draw in the playoffs and they just need to figure out how to play together again. The Grizzlies have no personnel worth speaking of and they don't scare me at all. The Bucks -7.5 need to win this game and win it big. For their standings in the playoffs and their own confidence. I think they'll do it.
Miami Heat vs. Portland Trailblazers Betting Tips:
The Heat are playing some good, team basketball of late. They are 6-2 over their past eight and making a little run in the East here. They've been a strong road team this year and kept games close. This is one of the deepest teams in the league and they have bench units that can really do some damage.
I love the way the Blazers have been playing lately, but that's just a Damian Lillard being amazing. They've won nine straight and not all of them have been easy. This seems like another one that might not be. Miami is a tough out.
There is a good chance that the Blazers continue their win streak here tonight. They are a great home team and playing really well right now, but the Heat +7 is about four points too many in my opinion. The Heat are not an easy win and they play close games on the road. A few of these Blazer wins have been fourth quarter Dame comeback games. That's a key here to this game being close down the stretch and seven points is way too many for that scenario.
Follow @SBTSportBetting