March 13th, 2018 Betting Tips: NBA, NHL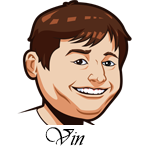 By
We are getting down to the nitty gritty of the NBA and NHL seasons. The playoffs start in less than a month and teams are vying for position in the playoff race.
The Pacers have overtaken the Cavaliers for the third seed in the Eastern Conference and there are a slew of teams not too far behind them. That'll be really interesting to see how that turns out. While the Western Conference has 8 teams battling for six spots. The Blazers have distanced themselves, but they aren't safe yet. I've really been loving that race.
In hockey, the Western Conference has seven teams between 83 and 78 points and only four spots among them. While the Eastern Conference's Metro division has a three-way race for the top seed between Pittsburgh, Washington and Philadelphia. Lots of fun hockey still to play.
The playoffs are getting nearer though and the games are getting more important. Now is the time to play your best game and for us to win some money on them. Let's get into it.
#1 Sportsbook Online for Americans

Good deposit bonus, lot of unique bets & props. Excellent mobile & live betting.
NHL Betting Tips:
We're going to skip the playoff race in the NHL today and go with a game that we are expecting to see a ton of goals scored. Conor McDavid is on an absolute tear right now and the Oilers have won three straight. They play the Flames tonight and when these two teams play, goals are scored. There have been seven or more goals scored in five of the last six games between these two teams. That should be more of the same tonight and we are taking the Over 6 goals.
NBA Betting Tips:
We mentioned the Pacers in the preview and they have a great game tonight against the Sixers. This is a potential playoff match-up and it should be a fun one. I think the Pacers are being really underrated in this one. They are coming off a win against the Celtics and they are finally getting healthy. While the Sixers are good and could win tonight's game, they shouldn't be giving this many points to a team with a better record than them. Pacers +6 is the play.
Anthony Davis being back in the lineup = I am all over the Pelicans. This team was in the midst of a huge winning streak before he went down. Now that he's back, I see them starting another one. The pace they play is amazing and they should run the Hornets off the court tonight. Pelicans -4.5 are about to start another run.
The Thunder in a brutal schedule stretch right now. This is their fifth game in eight days, third game in four and the second half of a back-to-back. There was lots of time lost during that trip before you include Daylights Saving Time. Their defense has been in a real rut lately and I can't believe I'm saying this, but I like the Hawks +6 to take advantage of that at home tonight.
#1 Sportsbook Online for Americans

Good deposit bonus, lot of unique bets & props. Excellent mobile & live betting.