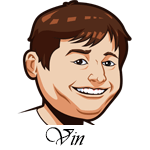 Follow @SBTSportBetting
A 3-1 record last night.
The closest of all the picks had to be the under on the Cleveland Cavaliers. That is not the type of bet that I ususally make, but the Miami defense has been really getting it done lately and I believed they would. The total was 98.5 there and the Heat won, 113-98. A bit closer than I'd like, but a win is a win.
We took the over on the Pelicans/Blazers game last night as well. These were two of the worst defenses in the NBA with a high total set, but I felt it wasn't high enough and it wasn't. The Blazers ended up pulling out the win, 125-124, in a game with a total of 239.5. Dame Lillard had 50 points and 10 assists in this one.
The Lakers managed to get things done for us in the late game as they defeated the Timberwolves, 137-121. This was all second half for the Lakers as they went into the break up one point before blowing things out in the second. I mentioned the bench could have a good night here and they did. Harrell had 25 (tied with LeBron for the team lead), Horton-Tucker had 16, and Kyle Kuzma had 16.
Our lone loss was the Sixers beating the Knicks, but failing to cover the spread. They were lucky to get the win as they finished with a 26-14 fourth quarter to win 99-96. The low scoring was thanks in part to Danny Green and Korkmaz, who combined to shoot just 2-for-13 on threes.
Best Odds for NBA:
Milwaukee Bucks at Philadelphia 76ers Betting Tips:
We lost with the Sixers last night and now they are playing their third game in four nights and the second half of a back-to-back. All three were at home so it's not the most insane schedule, but it still matters. The Bucks were off yesterday and have a clean injury sheet heading into this one.
Joel Embiid is one of the players in this league who can really frustrate and beat up on Giannis Antetokounmpo, but he's not playing here tonight. Giannis has been playing great this year, maybe even better than he has in his last two MVP seasons, and I think he can really dominate in this game without Embiid in. Milwaukee has won four straight, with three of the four being by six points or more, and they are favored by six here.
Philly is good, but without Embiid they are not a good match-up for this Bucks team.

Brooklyn Nets at Indiana Pacers Betting Tips:
I am not understanding these Nets lines lately. They've won thirteen out of their past fourteen games and they are 11-2 against the spread in those wins. This team just scores more than anybody else and James Harden is playing some of the best basketball of his career right now. I'm supposed to believe that the Pacers are going to be the team to stop all that? Come on.
Indiana has lost two of three since the break with losses against the Nuggets and Lakers. The most recent, the Nuggets, is about how I think this will go. Both teams have great offenses with average or worse defenses. The Pacers are a decent team, but they should be a lot bigger than -3 underdogs here. Jump on the Nets.
Best Sportsbook To Bet NBA:
Register an Account.
All betting odds and props will now be viewable under the event listing.
You can deposit to BetOnline via over 20 different options such as credit card.
Los Angeles Clippers at Dallas Mavericks Betting Tips:
This is a rare back-to-back (with a day off in the middle) where both games take place at Dallas. I'm sure it's happened before, but I can't remember ever seeing that. I suppose we are seeing a lot of things this season that we've never seen before.
The Clippers won that game easily, 109-99. I was surprised to see that the total on this one set at 226.5. Did they not see the last game? That's pretty high all things considered. I don't like betting unders unless I feel it's an absolute lock so I won't be touching that, but it might be worth a look for you.
My tip here is pretty simple. The Clippers did it last time and they can do it again. There's been no real changes on the injury front and both teams enter with the same rest. The Mavericks are a bottom-seven defense and the Clippers are a top-three offense. There is no reason they shouldn't get it done again.

Follow @SBTSportBetting