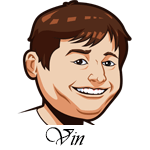 Follow @SBTSportBetting
Hey, there's a game tonight!
These time zones are messing me up. I was thinking this whole time that the first game was late tomorrow night when it's actually late tonight.
This should be a fun series as the Japanese crowds should be hyped for this series. I'm excited and will do my best to wake up/stay up and watch. I put the likelihood of me watching the whole game at -500.
I am running the system on these early games. Right now I am running a more simplified version using projections based on the depth charts at Fangraphs. (Here's the Athletics one I used.) I use the bullpens for that and I took the average runs scored per game for the offenses. For starting pitchers, I'm using 2018 stats. I'll be adjusting these things as we get more data as the season goes on, but for now this is what we've got. I'll also be using the "recency bias" feature as soon as we get some games in the can. This feature takes a team's recent performance into account so we don't discount hot hitting teams.
It's early in the season though and without a lot of data, I recommend keeping your bets smaller as that's what I'll be doing. It'll probably be May before I start to tick them up. These two teams are a great example of why you should start slow if you just look at last season's stats.
Anyways, I know I'm late and this game is going to be on very late so let's just get right into it.
Seattle Mariners vs. Oakland Athletics Betting Tips:
The Mariners are in a deep rebuild as they cleared their roster of their veterans, but they're still projected to be a solid team. A big part of that is Marco Gonzales who had a breakout season last year with a 4.00 ERA/3.43 FIP. He gets the start here and there is no reason to think he won't be solid. The Athletics were a slightly above average team against lefties last season and no reason to think that won't continue here.
Oakland is great. I love their bullpen once again and they have a lot of great young hitters who could breakout this season. This looks like the Wild Card team in the American League. The thing I don't like is they are starting Mike Fiers, why? He had a 3.56 ERA/4.75 FIP last year and really rode a low BABIP to those numbers. The Mariners have some good hitters (especially Mitch Haniger) and I think they'll get to Fiers today.
I don't love the Mariners on the season and it feels weird to take them on the first day of the season, but they should be the favorite of the crowd here as this will (most likely) be Ichiro Suzuki's farewell to Japan. The system just barely likes the Mariners here and has the total set at 8.8. The actual total is 8.5 to 9 runs so I'm feeling good about that here. Bet the Mariners, but don't go crazy.
Bet Mariners +113
Follow @SBTSportBetting