March 21st, 2019 Betting Tips: March Madness Day 1 & 2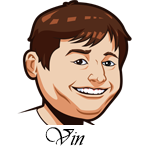 By
(Photo credit: Associated Press)
Today is the day. All basketball, all the time. Sixteen games today, sixteen games tomorrow. Eight games Saturday, eight games Sunday. This is the most exciting time on the sports calendar and this post will be 100% dedicated to the tournament. The NBA and NHL get enough of our attention around here, it's time for the tournament.
I am putting this one up early because the games start early.
This post is going to be a bit different as I am going to post a ton of picks. Do I recommend betting on all of the them? Sure, if you want to, but that's not the point. The point here is to cover as many games as possible and give you as many takes as possible. There are a ton of games happening over the new few days, these are just a few of my favorites.
#1 Sportsbook Online for Americans

Good deposit bonus, lot of unique bets & props. Excellent mobile & live betting.
NCAA March Madness Betting Tips:
THURSDAY:
Yale vs. LSU: LSU is a mess right now. They don't have a coach. Will Wade was suspended after being caught on tape discussing an offer to a player. There is just so much drama here and a team without their coach is a tough bet. Yale is who they are. They play tough, fundamental basketball. They are going to play defense and box out for rebounds. They aren't flashy, but I could see them pulling this upset. Bet Yale +7
New Mexico State vs. Auburn: I am a big fan of what Auburn is doing right now. They won eight straight and grabbed the SEC title to get to this game and draw a nice match-up against New Mexico State here. NMS had a nice season, but they did not face nearly the level of talent that Auburn did this year. Bet Auburn -5.5
Murray State vs. Marquette: This is a match-up of two teams with NBA prospects and not much else. Ja Morant is the star of Murray State and he's going to be one of the top picks in the draft, but this team does not impress me whatsoever. The Big East is a lot better conference than the Ohio Valley and I think that will show here. I like Marquette and Markus Howard's experience should really play off for them here. Bet Marquette -3
Saint Mary's vs. Villanova: #6 vs. #11 is a great place for an upset and I am picking one here. Villanova is one of these Big East teams that people aren't very high on heading into this tournament. While Saint Mary's is playing their best basketball of the season and coming off a win against the #1 team in the country, Gonzaga. Give me those points. Bet St. Mary's +4
FRIDAY:
Oregon vs. Wisconsin: Oregon is coming off a hot finish to the season in which they won the Pac-12 championship. The Badgers offense is not very good and ranks 270th in the nation overall. This team really struggled with shooting from deep in the Big Ten tournament and that could cost them against Oregon here. Bet Oregon +2
Utah State vs. Washington: The Huskies are a feel good story as this is their first trip back to the tournament in a long, long time. That said, I'm not buying this team. They have just a 1-7 record on the season against teams in the tournament while Utah State finished the season on an 8-game winning streak. Utah State looks like a solid bet here. Bet Utah State -3
#1 Sportsbook Online for Americans

Good deposit bonus, lot of unique bets & props. Excellent mobile & live betting.