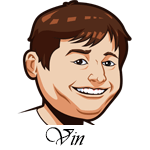 Follow @SBTSportBetting
A 1-0 record yesterday.
Or today, however you want to look at it. It feels pretty good that this season started off with a win. I woke up right at 4:30 AM Central time to watch this thing, but just looked at the clock and went back to sleep. I love baseball and Ichiro is my favorite baseball player of all time, but I just couldn't do it.
The Mariners beat the Athletics 9-7 and the pitching went about how I expected, only with way more runs. Mike Fiers only lasted three innings and gave up five earned runs, including a grand slam by Domingo Santana. (Santana couldn't get at-bats with the Brewers last season, but on the Mariners he should be a 30 HR/100 RBI kind of guy. Keep that in mind if you are a fantasy player.) While Marco Gonzales put on the quality start with six innings pitched and three earned runs. The front half of the bullpens did not look pretty and the ball was really flying out of the park here.
It's hard to say how much of that will carryover today. This is a slightly favorable park for homeruns and doubles, but the big foul territory benefits the pitchers. Today's match-up should be an interesting one.
Seattle Mariners vs. Oakland Athletics Betting Tips:
Tonight will be the MLB debut of Yusei Kikuchi who came to the Mariners this offseason from Japan's NPB. He should be very familiar with the Tokyo Dome, but very unfamiliar with MLB pitching. The projecting systems all have him as a 4.2-ish FIP guy and it's hard to judge how he'll do here. Kikuchi had a 3.08 ERA with 8.4 K/9 and 0.9 HR/9 in the NPB last season. This is his first major league start, it's in Japan, and it's against a tough offense. Any result here wouldn't surprise me.
The Athletics will send Marco Estrada to the mound and he had an awful 2018. A 5.64 ERA/5.44 FIP with 1.82 HR/9. His strikeouts and groundball rate went down from previous seasons and those are just not very promising stats. He's hoping the move from Toronto to Oakland will help his stats as that park is far more pitcher friendly, but this game isn't in Oakland. It's in a homer friendly park and he's a homer friendly pitcher.
The Bet MLB System really loves the over on this one as it has it tagged at 9.7. You can get this game at 8.5 to 9 runs at most sportsbooks. The system also very slightly favors the Mariners by 0.2 runs. This is slightly less than yesterday. I would lean towards the Mariners here just because I have zero trust whatsoever in Estrada, but you might feel the same way about the rookie pitcher making his MLB debut.
The power hitters really showed their might yesterday and I expect more of the same here. I'd be surprised if either of these starters made it past the fifth inning of this one and the bullpens showed shakiness yesterday. Take the 8.5 if you can get it, I feel comfortable with the 9 if you have to.
Bet Mariners/Athletics Over 9 Runs
Enjoy the game. I'll be back with a few more futures related posts before the games at normal times start on March 28th.
Follow @SBTSportBetting