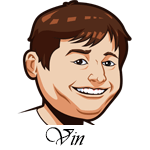 Follow @SBTSportBetting
A 2-1 record last night.
The Nuggets got things done last night with a 110-99 win over the Nuggets. We laid the -7 here and that came in. Nikola Jokic had a huge game with 28 points, 15 rebounds, and 10 assists. I hope this team continues to play well because he has been the MVP to me this season.
We took the under on the Heat/Suns game and it came in, we just had it backwards. I really thought that the Heat would acquit themselves better after three straight losses, but they ended up dropping this one 110-100.
The Blazers team over was our final tip of the night, but they ended up falling short by just five points. This one was really frustrating as they scored 41 points in the first quarter, but managed just 21 in the fourth. After that first quarter, I really thought we were golden.
We are just a shade over 24 hours from the trade deadline. Beware of all these tips because you never know when a deal might go down and mess up a team's depth for the ngiht.
Best Odds for NBA:
Denver Nuggets at "Toronto" Raptors Betting Tips:
I normally stay away from teams on back-to-backs, but I am going to make an exception here because the Raptors are just that bad right now.
Toronto has lost eight straight games and ten out of their past eleven games. Four of the past six losses have been by ten points or more. They are all over the trade rumors right now with both Kyle Lowry and Norman Powell rumored to be on the way out. Making matters worse, their best player, Pascal Siakam, is getting fined for swearing at the coach. Things are not good right now.
The Nuggets are good right now and, despite the back-to-back, I think they can continue their winning ways.

Boston Celtics at Milwaukee Bucks Betting Tips:
The Bucks are the Bucks again. They've won twelve out of their last thirteen games and now face the Boston Celtics at home.
Milwaukee is doing it with the amazing offense, second in the NBA in Offensive Rating, and a top-8 defense. While the Celtics aren't really doing that on either end. Their defense has been a big disappointment this year which is why this team is likely to make a trade.
I went back and forth between taking the Bucks -4.5 and the team over of 117.5. Ultimately, I decided to go with the team over. The Bucks have scored 120 or more in five of their past six games and they've scored at least 119 in their last three against Boston.
Charlotte Hornets at Houston Rockets Betting Tips:
The Rockets just ended a twenty game losing streak with a win over the Raptors. That doesn't mean they are good now though and I think the Hornets should help them start a new one here.
Charlotte's loss of LaMelo Ball hurts a lot, but this is still a good team without him. Terry Rozier has really flourished here, Malik Monk is making a nice comeback, and Gordon Hayward is a great player. I think they have the talent to get it done here.
Best Sportsbook To Bet NBA:
Register an Account.
All betting odds and props will now be viewable under the event listing.
You can deposit to BetOnline via over 20 different options such as credit card.
Brooklyn Nets at Utah Jazz Betting Tips:
We know what we are getting with the Nets offense. Without Kevin Durant and Kyrie Irving, they still managed to put up huge points each time out. This offense just cooks and James Harden can't be stopped.
Utah has been one of the best defenses in the league this season, but they've been a much more offensive team than anyone could've expected. The Jazz are fifth in Offensive Rating on the season. They've scored 114 or more in twelve straight games and I don't see that stopping here.
Brooklyn is good for giving up a lot of points and scoring a lot of points as well. I can see this one ending around 120-110 (at least), putting it as an over.

Follow @SBTSportBetting