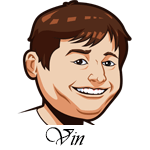 Follow @SBTSportBetting
A 2-2 record last night.
Milwaukee got us the win last night with the team over. This was a game that we very nearly laid the points on, but that would've been a mistake as the Bucks won 121-119. A classic case of one team being up huge after three quarters and then the other team nearly making a comeback.
If last night was Kyle Lowry's last night with the Raptors then he went out with a bang. The Raptors ended up dominating the Nuggets, 135-111. This should serve as a lesson to me: never ignore the fact that a team is playing their third game in four nights, no matter how much you like the pick.
Charlotte got us a big win over the Rockets, 122-97. The Rockets had just ended their winning streak, but that didn't magically make them good. Charlotte has been really impressive of late and it was nice to see them continue that here without LaMelo Ball.
Our last pick of the night was the over on Brooklyn/Utah that did not come in. The reason? James Harden didn't play. When I wrote the tips he was considered probable. Let's just say I wouldn't have made that pick if I knew that at the time. Beware of injuries in the NBA.
Today is the trade deadline so we should see some changes. Just keep an eye on any major changes that could mess with the team's I pick today before making your bets. The trade deadline is at 3 Eastern time.
Best Odds for NBA:
Portland Trail Blazers at Miami Heat Betting Tips:
The Heat have lost four straight and now get to face one of the worst defensive teams in the league at home.
Portland has been a pretty good team this season, but they have a negative point differential on the year and are weak down low as always. This looks like a match-up that Bam Adebayo can really exploit and I expect him to leave his mark on this game.
I can see Miami breaking their losing streak here, but I don't feel fully comfortable taking them at -4. They've struggled against teams like the Pacers so I don't feel like they are any kind of lock here. However, this Portland defense bleeds points and I think the Heat should be able to put up some points here, win or lose.

Los Angeles Clippers at San Antonio Spurs Betting Tips:
The Spurs have been a team that feasts on bad teams and loses to good teams. The Clippers are a good, maybe even great, team. Sometimes it's just that simple.
Los Angeles got a 134-101 win at San Antonio last night and I probably should've went with this pick then. I won't make the same mistake two nights in a row. Especially as the Spurs could be weakened by trades.
Best Sportsbook To Bet NBA:
Register an Account.
All betting odds and props will now be viewable under the event listing.
You can deposit to BetOnline via over 20 different options such as credit card.
Philadelphia 76ers at Los Angeles Lakers Betting Tips:
This is not an interesting pick, but that doesn't mean it is a bad one. The Lakers are just a nothing team without LeBron and Anthony Davis, and the 76ers are a very good defensive team, even without Joel Embiid.
You could go with the 76ers at -5.5 here, but I think this is going to be a lower scoring game. I'm going with the Lakers under as I can see the Sixers really locking down on D here and keeping their opponent around 100.

Follow @SBTSportBetting