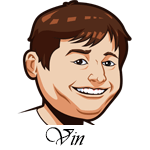 Follow @SBTSportBetting
Baseball is finally here! Opening Day comes to us a bit early this year and we couldn't be happier. This season should be a good one and I hope you all follow me every day over at BetMLB.org. I'll be sharing with you some of my favorite picks from there today and will continue to do so all season long.
This should be a very interesting season of baseball between the haves and have nots. The Dodgers, Cubs and Nationals look to dominate the National League while the American League will be run by the Yankees, Red Sox, Astros and Indians. Some team always ends up surprising, but those teams seem like locks to be in the postseason once again. Who can come out of the Wild Card scrap will create much of the drama this season.
Of course, that being said this is baseball and weird things happen all the time. The offensive explosion of last year is looking like it's going to continue into this year and that could throw everything off. It's going to be a lot of fun.
Notable Upcoming Bets:
MLB Betting Tips:
My favorite play of the day is the Brewers -116 over the Padres. I think Chase Anderson is a really underrated pitcher and he should do well today against that Padres offense in that cavernous ballpark. Clayton Richard had a solid season last year, but I don't love him against this Brewer offense. They added Christian Yelich and Lorenzo Cain to what was already a very good offense and I think they'll do well today. This is a team that a lot of people have high hopes for this year and I think that today they'll justify it.
The other game I am targeting is tonight's Cleveland Indians/Seattle Mariners game. This game is going to be cold. Temperatures in the 50s and two of the best pitchers of a generation on the mound. Corey Kluber just won his second Cy Young and will be racking up strikeouts tonight. Felix Hernandez has had a couple of off years, but he is still a smart pitcher and this Cleveland offense is a bit overhyped in my opinion. No Brantley hurts and I think this game is going under 7.5 runs.
NHL Betting Tips:
The biggest game on the schedule tonight has to be the Penguins and the Devils. The Devils are currently in the playoffs, but are just three points ahead of the Panthers and are desperately seeking a win here. Meanwhile, the Penguins are getting dangerously close to dropping into the Wild Cards which would be a much harder on their chances of getting to the Stanley Cup. We have two teams here who should be highly motivated to grab a win. On top of that, the Penguins are an elite offense and can't seem to stop the puck from getting into the net. I'm expecting a great game here and a result of over 6 goals. Let there be goals.
Follow @SBTSportBetting