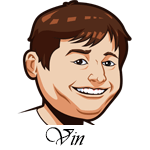 Follow @SBTSportBetting
Opening Day is finally here! Welcome to the first of many tip posts here at BetMLB.org that will help get you through this long season. I am really excited for some baseball and have cleared my schedule to watch as much as I can starting with the Cubs and Marlins at 11:40 all the way through the Mariners and Indians at 9:10. Let's do it!
The early part of the season is all about weather. It's cold for a lot of these games and the run scoring environment should be a bit lower. Last year the OPS across baseball for March/April was .725. The next lowest month was September/October at .741. 16 points of OPS may not seem like much, but it definitely shows up in the box score. Most of that loss is in slugging percentage which is also the low month of the year. You'll see that in a couple of our picks today and probably will over the next few weeks.
We have four picks today, but that's more the excitement of Opening Day than anything else.
[text-blocks id="137″ slug="email"]
Chicago Cubs vs. Miami Marlins Betting Tips:
I originally overlooked this game, but the more I think about it the more I like it. Jose Urena is not a great pitcher. He had a 3.82 ERA/5.20 FIP last season and he has been really beaten up this spring. Statistics in spring can be noise, but 11 hits and 8 walks in 10.1 innings is bad. Not something you want from your Opening Day starter.
The Cubs offense is obviously great and I like them to win this one. They are -190 favorites so that's not exactly a bold prediction. This is a top-6 offense and the combination of Urena and a weak bullpen should lead to a big day for the Cubs. Jon Lester gets the start and while he is a very good pitcher, he's also 34 and coming off his worst season since 2012. He is not infallible and I think he'll be good for a few runs today. We're taking the over here.
Bet Marlins/Cubs Over 7.5 Runs at: [text-blocks id="87″ slug="bet-mlb"]
St. Louis Cardinals vs. New York Mets Betting Tips:
This will be a cold one. Temperatures in the 50s and sprinkles throughout the day. I don't think there is a danger of a rain delay, but I don't expect these teams to hit very well either. Especially considering the pitching match-up. Noah Syndergaard has looked great in spring training and I can see him getting 10 strikeouts in this one.
Carlos Martinez is on the other mound and I am expecting a big season from him this year. The Mets offense is projected to be one of the worst in the league and outside of Jay Bruce and Yoenis Cespedes, no one on this team scares me. I'm expecting this to be a very low scoring game and am going with the under here.
Bet Mets/Cardinals Under 7 Runs at: [text-blocks id="87″ slug="bet-mlb"]
Milwaukee Brewers vs. San Diego Padres Betting Tips:
The Brewers are the darling of the National League right now and why not? They have an outstanding young core on offense with Christian Yelich, Travis Shaw and Domingo Santana leading the attack and their pitching looks to be coming around. I think the Padres will start to play a bit better out of this rebuild, but I don't see them being on the Brewers level. Milwaukee should be a Wild Card team this year.
Chase Anderson is a lot better pitcher than people think and I think he'll show that here today. The Brewers should be able to hit Clayton Richard and the back end of the Brewers bullpen is scary. Look for Josh Hader and Corey Knebel to shut this one down.
Bet Milwaukee -121 at: [text-blocks id="87″ slug="bet-mlb"]
Cleveland Indians vs. Seattle Mariners Betting Tips:
Seattle is cold. Corey Kluber is the reigning Cy Young award winner and I don't love the Indians offense as much as other people. A lot of people are predicting a bounceback season from Felix Hernandez and a great start here could really get that started.
I like the bullpens of both of these teams and I think this will be another low scoring affair. Game temperatures in the 50s with that Puget Sound air coming into the stadium. There will be a lot of blowing on the hands in this one and the total should go under.
Bet Indians/Mariners Under 7.5 Runs at:[text-blocks id="87″ slug="bet-mlb"]
[text-blocks id="110″ slug="middle-ad"]
Follow @SBTSportBetting