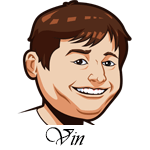 Follow @SBTSportBetting
3-1 on our first night! We couldn't have asked for a better night than that and it gives me a lot of confidence heading into the season. As I said before the baseball season is long and it's every single day. There will be good ones and bad ones, but for now I'm just going to appreciate the good one.
Our first tip of the day was the Cubs and Marlins going over 7.5 runs and we grabbed the win before the end of the third inning. That was nice and the ball was really flying off the bat in this one. Jose Urena was dreadful and for a moment it looked like this thing would be going over in the first inning as the Cubs sent nine men to the plate. Ian Happ, Anthony Rizzo and Kyle Schwarber all homered for the Cubs.
We lost the next game of the day as we had the under of 7 runs in the Washington and St. Louis game. Noah Syndergaard had a near record day of strikeouts, but both teams were able to string together some hits early and this one was over fairly quickly for us.
The Brewers and Padres played a 12-inning thriller, but it honestly felt so good when they won this one. I had mentioned how much I liked their bullpen and that bullpen really carried them in this one with six innings of one run ball. Ji-Man Choi hit a huge double in the 12th and scored the winning run.
Our final game of the night was the under on the Mariners and Indians game. This one was quite the thriller, finishing with a 2-1 score and a Mariners win. Corey Kluber gave up a 2-run homerun to Nelson Cruz in the first inning and the Mariners never scored again. Phew.
[text-blocks id="137″ slug="email"]

Pittsburgh Pirates vs. Detroit Tigers Betting Tips:
These are two teams that did a lot of selling over the past year and are heading towards a rebuilding phase. I don't love either team to put up a ton of runs because both teams don't have a lot of talented hitters. That said, Jordan Zimmerman was one of the worst pitchers in baseball last year and I think the Pirates will be able to get to him early. Ivan Nova is nothing special as a pitcher, but I think he'll handle this offense well and the Tigers will get their first of what should be many losses this season.
Bet Pirates -115 at: [text-blocks id="87″ slug="bet-mlb"]
Cincinnati Reds vs. Washington Nationals Betting Tips:
During this season you'll see that I almost never bet the runline on games. There is just too many variables with bullpens and I just have never had great luck betting them. I am making an exception today though for this game.
First off, we have Max Scherzer pitching for the Nationals. The defending Cy Young award has a real claim to being the best pitcher in the world right now. He goes against Homer Bailey who does not. Last season was the first time he's been healthy since 2014 and he had a 6.43 ERA/4.91 FIP. Not great. He faces what is sure to be one of the best offense in the National League today and I just don't love their chances.
Furthermore, it seems like the Nationals might actually have a bullpen this year. That hasn't been the case over the last few seasons so we should celebrate accordingly, by betting the runline.
Bet Nationals -1.5 at: [text-blocks id="87″ slug="bet-mlb"]
Atlanta Braves vs. Philadelphia Phillies Betting Tips:
Yesterday's game went over with a total of 13 runs and I think today could be more of the same. The two starters, Nick Pivetta and Mike Foltynewicz, combined for 2.9 HR/9 last season and I think we could see some balls leaving the park in this one as well. The Phillies bullpen gave up six runs yesterday as well and I just think this will be a high scoring game, we're taking the over here.
Bet Braves/Phillies Over 9 Runs at: [text-blocks id="87″ slug="bet-mlb"]
[text-blocks id="110″ slug="middle-ad"]
Follow @SBTSportBetting