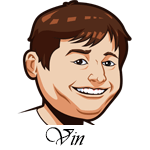 Follow @SBTSportBetting
The conference tournaments continue in college basketball today with some of the top seeds getting to play for the first time today. These games have been really fun the last couple of days and filled with comebacks, overtime and drama. There is a reason that it's called March Madness and this year is living up to the billing thus far.
The ACC is where I am looking today with lots of big match-ups. Notre Dame has looked good early in the tournament, but today they run into #2 seeded Duke who are always a threat in this tournament. The game of the day though might be North Carolina and Miami in a #3 vs. #6 match-up. UNC is coming off a great defensive performance against Syracuse, but Miami enters this one on a four game winning streak. This should be good.
We also have Marquette taking on Villanova in Big East action. This could be fireworks with Jalen Brunson of Nova going against the dynamic duo of Andrew Rowsey and Markus Howard.
Lots of action today so let's get right into the tips.
Notable Upcoming Bets:
NCAA Basketball Betting Tips:
Miami beat UNC in their last time out in a high scoring game. They also didn't play yesterday which is another point in their favor. Despite being the higher seed, Miami is getting a huge seven points. That just seems too much based on recent history and the rest/seeding. So many games have been close over the last couple of days that Miami +7 is the smart move.
It's been a fun little run for Notre Dame to get here against Duke, but that fun run is over. Duke has dominated this team over the past few seasons and today should be no different. Duke -7.5 is a gift as this line should be 10+.
The college tournament is much like the NBA in that teams live and die by the three pointer. Well, Marquette is third in the country in that category and Villanova has had a hard time stopping that. They also shoot 79% from the line which is absolutely huge in tournament games. This is a win or go home situation for the Golden Eagles and I fully expect them to show up and play this one tight. Marquette +10.5.
NBA Betting Tips:
Philadelphia is locked in right now. During the second half of the season they have an 11-4 record and are starting to look like they might be a serious threat in the first round of the playoffs. They face a Miami team that has struggled heavily in the second half, just 5-9, and is fighting for their playoff seeding. They are two back of the Sixers for the sixth seed and are in seventh by only a tiebreaker with the Bucks. They need a win here to avoid that first round match-up with Toronto. (Of course, that hasn't always been a bad thing.)
We have to go with the Sixers -1 tonight. They look great right now and are only getting stronger while the Heat are reeling right now.
Follow @SBTSportBetting