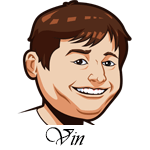 Follow @SBTSportBetting
Earlier this week the San Antonio Spurs played the Houston Rockets and Kawhi Leonard got a chance to make his MVP case known. He led a Spurs comeback, scoring over 30 points and finished it off in the last minute with a huge three pointer followed by an even bigger block of James Harden. It was absolutely a statement game from him and something that wasn't really expected. Kawhi Leonard has a legit case for MVP and if you look at the Spurs roster without him, you can really see how valuable he is.
Tonight is an interesting match-up as Kawhi Leonard and the Spurs face Russell Westbrook and the Thunder. Everyone is in love with Westbrook this season because of his triple doubles, but the Spurs are just a much better team in every single way. This is a possible first round match-up and I'm not sure that the Thunder would win a game against San Antonio. Time will tell of course, but tonight could be a good chance for both Leonard and Westbrook to make their MVP cases known.
Westbrook is coming off a career high 58 point game, but it happened in a loss. Leonard is just a force right now and carrying the Spurs to yet another top two finish in the Western Conference. This should be a fun game tonight.
Notable Upcoming Bets:
NBA Betting Tips:
The Detroit Pistons lost to the Pacers last night in an ugly fashion. Now they currently hold just a one game lead over the Miami Heat and Milwaukee Bucks for a playoff spot and tonight play their third game in four nights (and a back-to-back) against the world champion Cleveland Cavaliers. I don't see this ending well for Detroit and the Cavs -5 should roll.
San Antonio and OKC will be the game of the night tonight as it will be shown on national television, but I am not expecting much of a game. The Thunder have become a little too reliant on Westbrook as of late and the Spurs should easily be able to exploit that. Nobody really gives the Spurs credit for how good they've been this season, but as you will see tonight: they are pretty damn great. Spurs -3 in a walk.
After being written off for much of the year, the Blazers have now won three straight and find themselves back in the Western Conference playoff race. They are just a game behind the Nuggets and tonight they get to play the Philadelphia 76ers. The Sixers were a nice story for awhile there, but with Embiid out and a lottery spot in play they are back up to their same old terribleness. With Portland -10 playing at home, I don't feel bad laying this many points. It's going to be a blowout.
World Baseball Classic Betting Tips:
The games are getting good tonight as Mexico and the defending champion Dominican Republic are both in action. These are two teams that are loaded with major leaguers and should do very well in this tournament.
The DR vs. Canada should be an absolute blowout as the Canadians simply don't have the players to compete. I'd love to tip this one, but with the DR at -360 it's hard to justify. No matter how much of a lock I think it is.
Tonight's best tip will be Mexico -1.5 over Italy. Not only does Mexico have more major leaguers and better major leaguers, but this game is taking place in Jalisco, Mexico. As we've seen with Japan, a rabid group of fans cheering on the home team can really help. Mexico is a sleeper team in this tournament if they can survive Puerto and Venezuela, but they will do a lot to help their cause by crushing Italy tonight.
Follow @SBTSportBetting