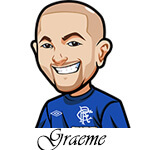 It's the week all sports fans have been waiting for and it is finally here!
I am of course talking about the Football Manager 2021 beta.
Seriously I've been waiting for this one forever and so pumped that it dropped today. I must admit things are a little bit late here as I just HAD to set up my team (Rangers of course) and play around just a wee bit with the tactics.
Alas I shall put it on hold so I can cover the Masters.
I've been a bit quiet the past couple weeks. A lot of that was just not feeling the tournaments. I also wanted to take a little bit to recharge after a bit of a losing year and also get all the golf stats up to date. It's always bugged me that I don't have a full listing of every bet on the site and I've been busy compiling that.
Prior to this year I bet in units. If we go by my most common betting amount in forms of units, $125 = 1u. Out of 1416 bets, I've made that bet 546 times or 38.6% of the time which is the majority of bets.
Based on that, my profit in units and dollars is:
2014: +69.41u / $8676.25
2015: +261.30u / $32,662.10
2016: +130,04u / $16,255.40
2017: +12.79u / $1598.27
2018: +142.95u / $17,868.58
2019: +64.05u / $8006.38
Then we have 2020 which is currently NEGATIVE $920.23 or -7.36u. Now considering my running total since starting the site is +673.18u you'd think that wouldn't affect me – but man it bothers me when doing tips. The worst thing is I can't even blame COVID as I've actually did better since the break!
Anyway – I'll have a big page with all the betting stats up later this week hopefully or next week at the latest. We'll see how much I play Football Manager! Just wanted to let you guys know that even though I haven't been writing tips much the past couple of weeks, I've been very busy behind the scenes.
Let's look at the Masters:
The Masters 2020 Betting Tips:
What's funny is from a betting perspective, tournaments like this can be much tougher. Especially Augusta where there can be a real lack of consistency in regard to what actually wins here due to the elements. Throw in the fact that it's the freaking Masters AND that it is in November – more of a crapshoot than normal. But I'm still pumped for it.
E/W is Top 8 at Bet365 which I'll be factoring in when I do my bets. Slight change in writeups in that I will list the best odds for each golfer to win at different sportsbooks to help you guys for placing the best bets.
---
$250 on Xander Schauffele E/W. Will Xander finally get that Major? 2nd place last year and just all around excellent performances here. No surprise he pops up on the combined metrics for me and is the average 5th best golfer based on everything I ran here. (Bryson is 2nd and DJ 3rd FYI). I like Xander here.
USA: +1600 at BetOnline
Everywhere Else: 16/1 at BetOnline
---
$125 on Webb Simpson E/W. Top of the metrics for me. Now that doesn't mean what you think it means as there is a lot more to consider. His current form is – well it's there. His history here isn't great with only the lone top 5 finish. But a solid enough choice who should at least contend for the place.
USA: +3300 at Bovada
Everywhere Else: 33/1 at Bet365
---
$125 on Patrick Cantlay E/W. I'm not the biggest fan of Cantlay here at this price would like a better one. However his odds have dropped a bit since I was studying trends a bit ago and he could be a surprise one.
USA: +2500 at Bovada
Everywhere Else: 25/1 at Bet365
---
$62.50 on Si Woo Kim E/W Couple of respectable performances here. Hasn't been playing too bad. Pops up on the metrics and at his price worth a small bet. His putting is certainly a concern and could cost him. Going to roll the dice on him though.
USA:+15000 at Bovada
Everywhere Else:150/1 at Mr Green
---
$62.50 on Ian Poulter E/W: A very risky one of course especially with his back issues but hopefully skipping the Houston Open will have him well rested for this one. I could always see him starting fresh and then dropping as it goes on so I'd advise a $62.50 bet on him E/W and one on him first round leader also E/W (Which is Top 6).
USA: +15000 at BetOnline
Everywhere Else:125/1 at Bet365