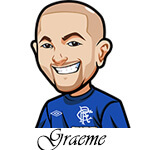 Follow @SBTSportBetting


[Get Exclusive Tips on our Patreon, Ad-Free
]
This week we've got The Masters.
It's always an interesting tournament for me. I mean from a viewing perspective hell yeah – absolutely pumped and can't wait for it etc. Alas due to COVID I won't be able to pop down to a random pub any day over the next 4 days and just pull up a seat knowing The Masters is going to be on, and everyone is glued to it.
I always love that and love having chats with random people about golf etc.
From a betting perspective – I don't love it. There's already been so much covered all over the place. The sportsbooks give it so much more focus than any other tournament. It's like betting on the Stanley Cup Final game 7 as opposed to a random Sabres vs Devils game on a busy Saturday.
With all eyes turned onto it, the value isn't there. There's also the additional pressure etc that a Major brings. Plus weather can be a big factor at Augusta. Give me a lesser tournament like the Valero Texas Open any day.
Speaking of – decent week there. First of all I made a mistake with my own bets last week – for the better of course. I tipped Hoffman at $125 to win & E/W but I was half asleep when I placed the bet and I ended up betting $125 on both sides of the E/W for a total bet of $250.
When I update the betting stats they will reflect the $125 price I tipped but as I post my betting slips here I just wanted to clarify why it says a total of $250: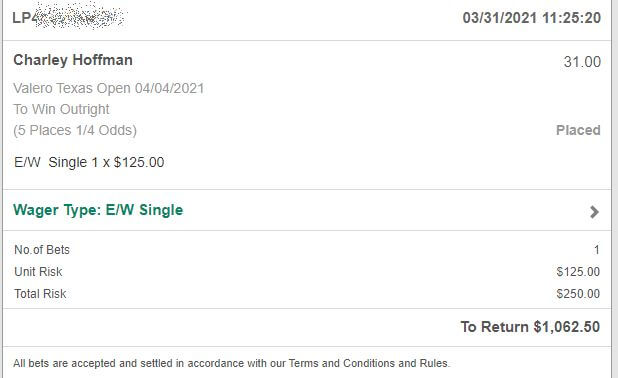 A nice mistake to make.
Hoffman almost won. Alas he was pipped to the pole by Jordan Spieth. Dream finish would have been Hoffman to win and Spieth second because of course, we also had the Spieth Top 10 Bet:

Let's get on with the Masters:
The Masters 2021 Betting Odds:
Dustin Johnson: 9/1
Bryson DeChambeau: 11/1
Jordan Spieth: 11/1
Justin Thomas: 11/1
Jon Rahm: 12/1
Rory McIlroy: 18/1
Patrick Cantlay: 20/1
Xander Schauffele: 22/1
Brooks Koepka: 25/1
Collin Morikawa: 30/1
Odds from Bet365.
The Masters 2021 Betting Tips:
E/W bets are factoring in Top 8 pricing.
$125 on Bryson Dechambeau To Win:
This is the sort of course that is made for Bryson. It's the ideal course for him. Despite that he has struggled here and never been able to crack the top 20.
I think if there is any time he is going to do it, it is this time. I think it has to eat away at him that he hasn't been able to perform here. I think he is 100% focused on this tournament and is going to go big or go home. He had that sort of drive at the Arnold Palmer Invitational..
I honestly don't know if he has what it takes. He just might not be able to conquer Augusta. If he doesn't win here I certainly won't bet him again here. But in a week where a lot of the talk is on JT, Spieth and of course DJ – I think that will drive him even more. Happy to bet him being fully aware of his struggles to challenge at this course.
USA: +1100 at BetOnline
Everywhere Else: 11/1 at Bet365
---
$125 on Jon Rahm to Win & E/W:
The guy just had his kid. That's been weighing on his mind. Now he gets to come here feeling happy and play freely. You never know but I am hoping that will affect him in a positive way. Solid course form last 3 years. Coming in with incoming form. Hoping he peaks here and we see Rahmbo do his thing. People do react differently to real life situations so there's always that concern.
USA: +1300 at BetOnline
Everywhere Else: 12/1 at Bet365
---
That's $250 bet. Let's spread another $250 on 4 other random picks. In saying that I do want to warn you that I really don't feel confident about these bets at all. Mentally I feel like I am burning money and if it wasn't the Masters I'd skip it completely. Three of them are to win and top 10 due to better overall odds to win.
$62.50 on Sergio Garcia To WIn & Top 10:
Not one I personally love to be honest but a lot of people feel he is peaking at the right time etc and the price is great for him. I think I am something like 0/20 in "well I don't like this guy but a lot of people I respect like him" mentions on here. But I certainly see their reasoning and the price is juicy.
66/1 at BetOnline
---
$62.50 on Webb Simpson To Win & Top 10:
Metric pick more than anything. Might make more sense to bet bigger on a pure Top 10 finish. He's not coming in too strong but he had similar form coming in 2019 and got a 5th place there.
45/1 at BetOnline
---
$62.50 on Lee Westwood To Win & Top 10:
Why the hell not? Guy has performed well here obviously. In the form of his life. He's played a lot of golf but at least had a well needed break. Similar to above this is probably more like a top 20 bet than anything else.
55/1 at BetOnline
---
$62.50 on Rory McIlroy To Win & E/W:
There's value on him at this price. He has a lot of issues lately. Specifically, his final round showings. You may wish to factor that in. But when I look at the odds I just feel it's well worth the play.
USA: +1800 at BetOnline
Everywhere Else:18/1 at Bet365
Follow @SBTSportBetting