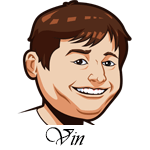 Follow @SBTSportBetting
A 2-1 record last night that could've easily been a 3-0.
The one loss that could've been a win? Houston over Oakland. For reasons I can't remember today, I took the first five inning runline on this one. At the end of five, it was 0-0 so that was a loss as we laid the 0.5 runs. If I had just, say, laid the runs, this would be a win as the Astros came on strong to win 4-1. Ah well.
The Cubs was the easiest win of the day as they rode an 8 run third inning to a 13-4 win. I said that Wei-Yin Chen would give up some homers in this one and he gave up one to Kris Bryant, one to Anthony Rizzo and one to Addison Russell. The wind at Wrigley is one of the strongest forces in baseball and I'm looking forward to a summer of exploiting it.
The Braves rolled 5-2 for our final win of the night. Ryan Yarbrough gave up all five of the runs in this one. I loved the young Braves offense in this one, but the star of the game was Nick Markakis who is having quite the start to the year. He has a .973 OPS which is not really sustainable. We'll take it though.
[text-blocks id="137″ slug="email"]
Boston Red Sox vs. New York Yankees Betting Tips:
It seems like these two teams always score a ton of runs against each other. Last night's game was 9-6 Yankees and I could easily see another score like that here tonight.
Eduardo Rodriguez is not a great starter, but he's been decent. On the road, he is far worse though. Through his first few starts of the season, his road FIP 5.68 against a 3.02 FIP at home. His strikeouts are way lower on the road and most of his homeruns allowed have been on the road as well. Throw in a Yankees offense that has a .722 OPS against lefties and it's easy to see the Yanks scoring some serious runs here.
The Red Sox have been one of the worst teams in baseball against lefties, but that doesn't really scare me off in this match-up against CC Sabathia. I think he's due for some regression as are the Red Sox against LHP. Mookie Betts, Xander Bogaerts and J.D. Martinez are too good against lefties for the team as a whole to be this bad against them.
I'm taking the over here as I think this one plays out similar to last night's game.
Bet Red Sox/Yankees Over 9.5 Runs at: [text-blocks id="87″ slug="bet-mlb"]
Milwaukee Brewers vs. Colorado Rockies Betting Tips:
Jhoulys Chacin starts for the Brewers tonight and I don't think Coors will effect him as much as it does other. He pitched as a Rockie for a couple of years and seemingly knows what's he in for. For his career he has a 4.23 ERA and 1.365 WHIP in 23 starts at Coors Field. His career FIP is 4.11 and his career WHIP is 1.345 so the Coors effect is almost imperceptible here.
For his career, German Marquez has only seen a slight bump to his stats when pitching at home. This year? It's been a nightmare. In three starts, he's given up two homeruns and only lasted 11 total innings. That's a 10.64 ERA and a 2.091 WHIP. He's better than that as we've seen in his last few road starts, but I think the Brewers are in a nice position to grab a win here today.
Bet Milwaukee +132 at: [text-blocks id="87″ slug="bet-mlb"]
Atlanta Braves vs. Miami Marlins Betting Tips:
Going back to the well on Atlanta today. I feel like I haven't ridden them enough earlier and it's time to make up for it. Mike Foltynewicz is decent enough with a 3.65 ERA/3.71 FIP and I just love this offense. They are tops in baseball against lefties and I don't have much faith in Caleb Smith. Yes, please.
Bet Braves -108 at: [text-blocks id="87″ slug="bet-mlb"]
[text-blocks id="110″ slug="middle-ad"]
Follow @SBTSportBetting