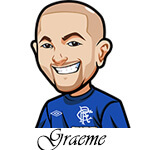 Follow @SBTSportBetting
What an incredible game Ajax vs Tottenham Hotspur was.
I'm not even mad.
Well – maybe a bit disappointed in Ajax. I'd backed them to qualify and it stung seeing it lose the way it did.
The worst thing is I was watching it with a friend who – well he wasn't confident in Ajax specifically, but he had written Spurs off before the match. As the first half progressed, it all "proved his point".
At half time I said, with the Liverpool vs Barcelona match fresh in my memory, "maybe I should cash out the Ajax bets and then bet Spurs to win just for a laugh". He then spent 5 minutes explaining to me why that was a horrible idea – in such a manner that he convinced me with ease, and I decided not to do that.
Drinks are on him next time.
I'll cover this weekends EPL tomorrow. For now let's cover this weekends Serie A. Been killing it in Italy this year with that 3-0 win last weekend so let's hope for more:
Frosinone vs Udinese Betting Tips:
An absolutely critical game for Udinese who are two points above Empoli in the league with just three games left to go. Empoli are currently tieing up the final relegation spot and are putting on the pressure after a huge win over Fiorentina. Empoli now look to get their first away win of the season as they take on Sampdoria.
Udinese know they need to get the points against 2nd bottom Frosinone if they want to avoid relegation. Their problem is they just can't score at the moment.
Just 1 goal in their last 5 and that was a bloody own goal against Sassuolo. They have the third worst offensive record in the league and they just can't seem to get ticking.
I think we'll see similar here. Granted Udinese did get the goals against Empoli and Frosinone have a similar bad defence but they're just struggling at the moment. I think their defence keeps Frosinone at bay, but that this one is destined to end 0-0 or 1-1.
(Odds on this page are correct as of 2019/05/09 7:44:19 AM EST but are subject to change)

SPAL vs Napoli Betting Tips:
Safe from relegation, SPAL have been on a tear at the moment and come into this one with maximum confidence. This team beat Juventus not so long ago and will be hungry for blood.
It's going to be a tough game against Napoli but I think they will be competitive.
Napoli have struggled to keep clean sheets lately with only that one against crappy Frosinone in recent games. SPAL just can't help but score and I like this one to be a high scoring game.
Napoli have 2nd spot locked up and will want to finish the season strong. SPAL are playing with freedom and confidence and enjoying their football.
(Odds on this page are correct as of 2019/05/09 7:44:19 AM EST but are subject to change)

Follow @SBTSportBetting