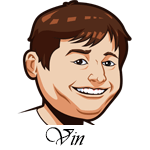 Follow @SBTSportBetting
A 1-1 record last night.
The win came late for us as we took the over in the Cubs/Marlins game of 6.5 run. This one was tied 2-2 early, but then both offenses went cold and I was ready to count this one as a loss. Then in the bottom of the ninth, the Marlins crumbled. Kris Bryant hit a walk-off three-run homer that gave us the win. It's fun to be lucky sometimes.
The Nationals are now on my bad list though. The offense wasn't there again as the opener of Adrian Houser and follow-up Freddy Peralta plan worked out well for Milwaukee as the two combined for seven innings, zero earned runs and nine strikeouts. Stephen Strasburg had a great game until the seventh inning. I know he's an elite pitcher, but we've seen so many times these pitchers trying to go deep and things falling apart. It's just not that kind of league anymore, get these guys out of there after the sixth. Not the Nats bullpen was much help as they again struggled and the Brewers won 6-0. I think I might be done betting on the Nats/against the Brewers at home for awhile.
A couple of tips today, let's get into them.
Minnesota Twins vs. Toronto Blue Jays Betting Tips:
The Twins have been actually great this year as they've broke out with a 22-12 record. The hitting has been a big part of that and they lead the league in slugging percentage against right handed pitchers. That is bad news for Trent Thornton here today. He's been solid early with a 4.08 ERA/4.02 FIP, but his 1.27 HR/9 virtually guarantees that the Twins will take him deep today. I think that will hurt.
For the Twins, they send Kyle Gibson who is servicable with a 4.68 ERA/4.46 FIP thus far. He draws the far better match-up here with the Jays having just a .657 OPS and 77 wRC+ against right handed pitchers on the season. That is not good and I think the Twins win this one to continue the hot start.
Bet Twins -107
San Francisco Giants vs. Colorado Rockies Betting Tips:
This one is at Coors Field so we always have to prepare for some weirdness, but I like the Rockies a lot here.
Jon Gray is a pitcher I always like as he has the huge strikeout numbers. He has just a 4.22 ERA/4.66 FIP on the season, but I think he's due for that to come down a bit. This Giants offense is a great opportunity for that as they have just a .676 OPS on the season with a 82 wRC+ versus right handed pitchers.
The Giants send Derek Holland who has struggled early with a 5.34 ERA/5.17 FIP. He's had the strikeouts, but the walks and homeruns have been an issue and this is simply not the ballpark for that. I've had my share of issues with the Rockies offense this year, but they slug the ball well against lefties and this is a home game for them where they always hit better. I'm all over the Rox today.
Bet Rockies -142
Follow @SBTSportBetting