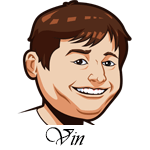 Follow @SBTSportBetting
Last night we saw the Warriors take a 3-2 lead in their series with the Rockets with game seven being at home. They have two chances to close out this series and under normal circumstances we could be almost certain that the Warriors were going to finish this series and move on to their rightful place in the Western Conference Finals.
This isn't normal circumstances though as Kevin Durant suffered a calf strain that could keep him out the rest of this series or maybe even longer. Stephen Curry and Klay Thompson really showed up after he went out and were able to close this thing out when it looked dangerously close at times. That worked for this game, but the next two look very scary for Golden State. They were only going with about a six man rotation before Durant's injury and there is no real clear replacement for him. No matter what happens in this series, it is really starting to look like there is going to be a new NBA champion crowned this season and they won't be the Warriors.
We have two more NBA playoff series that could end tonight as well as game one of the Boston Bruins and Carolina Hurricanes in the NHL Eastern Conference Finals. A big night for sports, let's get to the tips.
Notable Upcoming Bets:
NHL Betting Tips:
Carolina Hurricanes at Boston Bruins: It's really hard to go against the Carolina Hurricanes right now. They are a fun team and they are a deep team. They have gotten great goaltending in this run and have been the most impressive team we've seen thus far. I like the Bruins, but they are very reliant on their top line and I'm not sure how that is going to play in this series. I think the Canes are going to the Cup and they can steal game one here.
NBA Betting Tips:
Toronto Raptors at Philadelphia 76ers: The Raptors really dominated in games four and five, and now look set to close this series out on the road. Kawhi Leonard has been unstoppable and the rest of the team has started to wake up. I like when Marc Gasol shoots and Kyle Lowry looked more like himself in the last couple of games.
For the Sixers, this looks like the end. Ben Simmons has really been exposed and Joel Embiid has been unable to adjust to the Raps defense. Jimmy Butler has been great, except when they put Kawhi on him. I think this is the end of the road for Philly and they have some serious questions to answer this offseason.
Denver Nuggets vs. Portland Trail Blazers: The Blazers are a small favorite here and I can see them winning this game. Damian Lillard and CJ McCollum are due and a big game from one or both of those two would carry them to victory here.
I'm just not sure that will happen. The Nuggets are just bigger and making life difficult for those two. Nikola Jokic is playing out of his mind and this Nuggets team just keeps getting better as the playoffs go on. I think they are going to the Western Conference Finals and they punch that ticket tonight.
Follow @SBTSportBetting