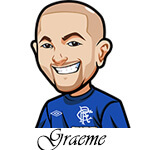 Follow @SBTSportBetting
A solid day of betting yesterday.
We went 1-1 in the MLS for a nice profit with a 2u play on DC United or Draw. That worked out well. Toronto were probably the better team but their goalscoring woes continued as predicted, and they couldn't score. DC got the 0-0 draw.
We lost with Seattle to win til nil but that was only a 0.5u play so that's okay.
We went 2-1 in the Eredivise with two solid wins. We had ADO Den Haag to beat Williem II. 3.00 odds on that one, and Den Haag thumped them 6-2 after having to come from behind twice. That was nice. The Damil Dankerlui red card certainly helped but I'm not going to complain.
We then won with Emmen or Draw against Groningen which was a 2.00 odds win.
Finally we had Sittard or Draw against Feyenoord. Risky one and I took just 0.5u. Didn't work out as Feyenoord – being tied 1-1 – scored 3 goals in the final 20 minutes after Kai Heerings got red carded for Sittard.
Funny how it all balances out. One game we won due to a red card, one game we lost due to a red card. Luckily the betting odds and unit sizing worked out in our favour.
How about that Leeds vs Derby game yesterday? Belter. I was cheering on Derby as much as I love the Leeds story simply because I always enjoy when a famous player becomes manager and does well, as Frank Lampard is doing there.
Quite enjoyed tipping the MLS so lets do it again for this weekends games:
Sporting KC vs Vancouver Whitecaps Betting Tips:
Total value play here. Sporting Kansas City are heavy favourites but they are struggling and it's been 6 games without a win. Even at home they drew with New England and new York Red Bulls and lost 3-0 to Atalanta.
Vancouver aren't great. 8th in the West right now and their away form has been poor but they did get that win over Colorado. Granted its Colorado but still good to see.
They got that good win over Portland too.
Sporting KC are certainly the better team however they hvae a brutal injury list. Daniel Salloi is struggling at the moment and may be added to the injury list along with Jaylin Lindsey, Erik Hurtado and numerous others.
Vancouver are a solid value play here to at least make it somewhat of a challenge.
(Odds on this page are correct as of 2019/05/16 8:14:06 AM EST but are subject to change)

Philadelphia Union vs Seattle Sounders Betting Tips:
This should be a good game.
Philly are currently 2nd in the East, 1 point behind DC United. Seattle are 2nd in the West behind LAFC.
One neat thing about both teams is they are the 2nd and 3rd highest scoring teams in the league but they spread it around. Not one dominant player there. David Accam has 4 for Philadelphia – the most – out of 23 goals so that says a lot.
However I just think Philadelphia are the better team and they have performed well at home. I like them to continue their push to take the top spot with a solid enough win here.
(Odds on this page are correct as of 2019/05/16 8:14:06 AM EST but are subject to change)

Follow @SBTSportBetting