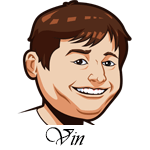 Follow @SBTSportBetting
A 2-1 record to finish off the first month of the season. You can check our complete record for the first month plus here.
The Phillies let us down big time. Scratch that, Jake Arrieta let us down big time. He was punished by the Marlins, but he was having a tough time missing bats. He just didn't have it in this one and the Marlins won big. Dan Straily allowed four runs in four innings so I was right on that half, just not on Arrieta.
I didn't even mention Jake Faria in my write-up of the Rays/Tigers pick, but he really bailed us out here. Jordan Zimmermann had his best start in a couple of years, but it didn't matter as Faria threw 8 innings of shutout ball and the Rays grabbed the win 3-2.
We also grabbed the win with the Nationals over the Pirates, 3-2. Jameson Taillon bounced back, but his three earned runs were enough to get the win here.
That was a close call last night, but that's baseball. The weather is starting to warm up out there so the bats should be waking up as well. It's May so let's pick some winners.
[text-blocks id="137″ slug="email"]
Milwaukee Brewers vs. Cincinnati Reds Betting Tips:
I usually start the day looking at the days lines and seeing if anything jumps out. This one jumped out, big time.
Homer Bailey is hittable. He has a 4.19 ERA/5.29 FIP on the year with 1.6 HR/9. He faces a really dangerous Brewers offense here today that has a lot of options to take him deep.
He goes against Chase Anderson who is the nominal Brewers ace. He has a 2.86 ERA/5.70 FIP and the truth is somewhere in the middle there. If this were fantasy, I probably wouldn't start him here, but I do love the match-up. In seven career starts against the Reds he has a 2.68 ERA. The Brewers are starting to hit again and I'm not sure why this moneyline is so low.
Bet Brewers -123 at: [text-blocks id="87″ slug="bet-mlb"]
St. Louis Cardinals vs. Chicago White Sox Betting Tips:
My favorite pitcher to target is on the mound for the Sox today in James Shields. He's given up eleven runs in his last two starts and faces a Cardinals offense that can make him pay. They are close to league average on the year, but Matt Carpenter and Marcell Ozuna haven't given them much thus far. They should be breaking out soon and that's when the Cardinals get scary.
Michael Wacha is on the mound and he's been decent to start the year with a 3.62 ERA/3.89 FIP. I like him in this match-up though as the White Sox offense is very aggressive and he is a ground ball pitcher. Plus, his offense should give him plenty of cushion. Shields should've been tagged for about four more runs in his last start against the Mariners and I expect him to have another rough game here.
Bet Cardinals -1.5 at: [text-blocks id="87″ slug="bet-mlb"]
Baltimore Orioles vs. Los Angeles Angels Betting Tips:
Another one of my favorite targets has been Alex Cobb. He's been killed early in the season with a 13.11 ERA/6.88 FIP and 2.3 HR/9 and 2.829 WHIP. Those are not good. The Angels offense has the best hitter in the world in Mike Trout and a bunch of other guys who can hurt you. I don't like Cobb's chances to turn it around here.
The Orioles offense hasn't been great this year, but I like their match-up here against Nick Tropeano. In his three starts this year he has a 4.67 ERA/5.10 FIP. He missed all of 2017 and I don't think he's quite all the way back yet. Manny Machado can punish him and hopefully the rest of the squad gets involved too because we're taking the over on this one.
Bet Over Orioles/Angels Over 8.5 Runs at: [text-blocks id="87″ slug="bet-mlb"]
[text-blocks id="110″ slug="middle-ad"]
Follow @SBTSportBetting