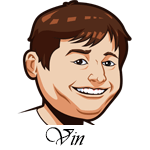 Follow @SBTSportBetting
A 2-2 record yesterday.
I'm not sure which game was more frustrating of a loss. The Braves giving up all the runs to one of the worst offenses in baseball (two homeruns for Miguel Rojas, seriously?) before the offense finally woke up for six runs in the bottom of the ninth to win the game. Since it was the ninth, they weren't able to add any more to cover the -1.5.
That was annoying, but the Nationals and Dodgers under is a perfect example of why I hate unders. 3-2 in the 7th, with an under bet on 7.5. We should be good? It's a close game, teams should use their good relievers. Tell that to Wander Suero and Shawn Kelley who each gave up two runs to put this one over. I hate unders!
Thankfully, we had two more games to go. The Angels got a great start out of Shohei Ohtani who went 7 2/3s with 9 strikeouts. The Rays pitching experiment didn't work out tonight as each of the three pitchers after Romo allowed runs.
The Astros and Indians was the kind of game you would expect from two teams who seem destined to meet in the playoffs. The difference was the starters. Carlos Carrasco allowed eight hits in 7 2/3s while Lance McCullers Jr. allowed one hit in 7. That'll do it and the Astros won 3-1.
I also wanted to apologize to any email subscribers as the tips went out late. Sundays always give me issues for whatever reason as I try to get the tips up earlier with all the early games, but sometimes miss my window for the email to get out in time. I'll work harder to get them out there in time, but just know if it's Sunday and the games are about to start and you haven't got the email that you should come on over to the site. The tips are probably up.
[text-blocks id="137″ slug="email"]
Detroit Tigers vs. Minnesota Twins Betting Tips:
It's been awhile since I went to Jose Berrios, but I am loving him in this match-up. He had a run of four pretty bad starts, but bounced back big time in his last time out with 7 1/3s innings of 2 hit, ten strikeout baseball. That is the pitcher I believe he can be and he has done a great job keeping the walks down this year. He faces a Tigers offense that has just a .716 OPS against RH pitchers.
He faces the third Hardy brother, Blaine Hardy tonight and that should go well for the Twins. Minnesota has a .733 OPS against LH pitchers and Hardy has posted a 3.38 ERA/6.14 FIP in eight innings this year meaning he's been more lucky than good. He only has one career start at the major league level so I don't see him lasting long here. Tigers relievers have a 4.55 ERA on the year so I think this one goes well for the Twins.
Bet Twins -1.5 (+100) at: [text-blocks id="87″ slug="bet-mlb"]
New York Yankees vs. Texas Rangers Betting Tips:
I've been burned before, but the stats are the stats and Bartolo Colon is due for regression. His 2.82 ERA/4.47 FIP is due for regression, his .200 BABIP is artificially low and his outrageous 86% left on base percentage has to even out. There are bad times ahead for him and I think they come tonight against the Yankees who have a .793 OPS against righties on the season. They are the best offense and they should feast on Colon today. (That reads kinda gross if you don't pronounce it correctly. Sorry.)
The Rangers have a .669 OPS against righties this year and Masahiro Tanaka will be glad to see them as he's faced most of the top offenses in baseball already this season. I like him to roll and the Yanks to dominate Colon. Lay the runs.
Bet Yankees -1.5 (-125) at: [text-blocks id="87″ slug="bet-mlb"]
[text-blocks id="110″ slug="middle-ad"]
Follow @SBTSportBetting